Late-night diners making a meal of nocturnal nibbles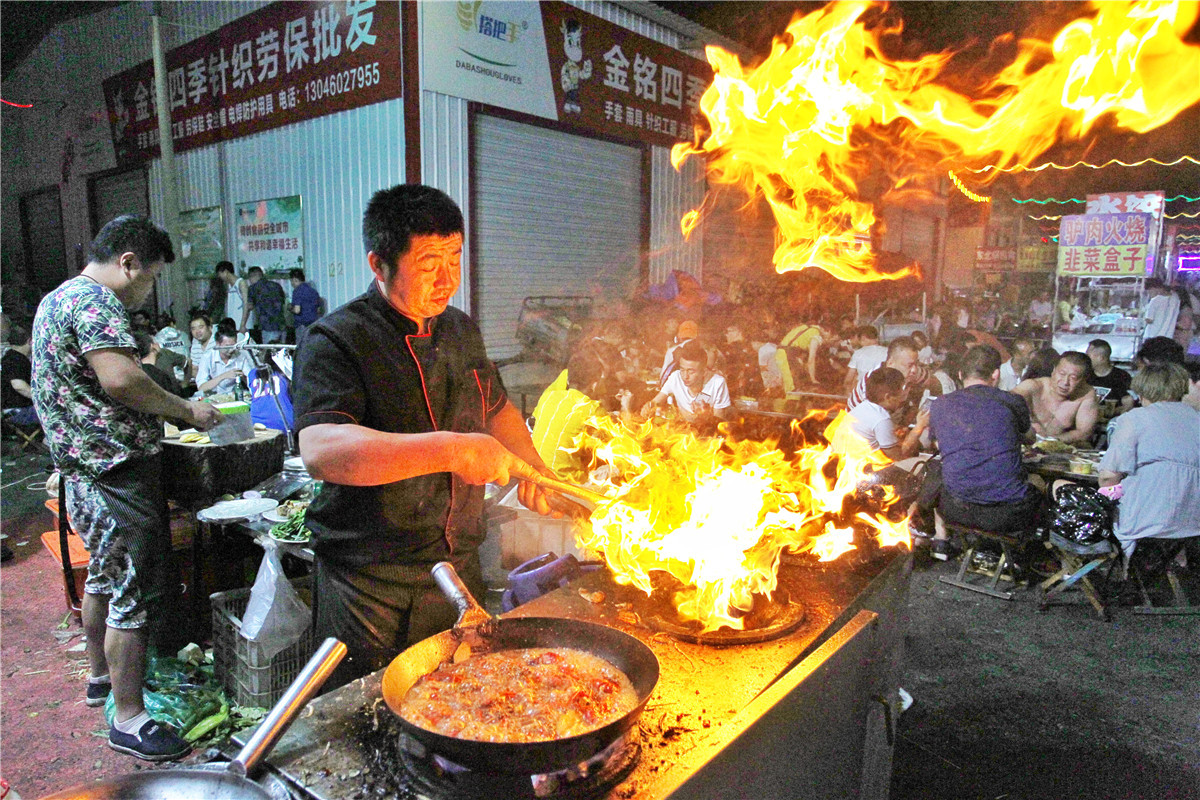 A social aspect
However, Gao, who often satisfies her late-night hunger with lamb or vegetable skewers dripping with oil, claims to stick to a healthy eating pattern most days.
She said she initially opted to go out with friends late at night simply because it was hard to find a daytime slot when everyone was available.
"The 996 work schedule (9 am to 9 pm, six days a week) is common among web developers like me. It was such a bummer when we used to hang out at regular dinner times and our chats were interrupted by calls from supervisors, or we could not help checking our workplace chat groups for fear of a missed notification," she said.
Late-night hours offer precious periods for young professionals to become fully immersed in social gatherings, she said, adding it was only recently that she discovered the pleasures of sharing a plate of grilled lamb skewers after 10 pm.
"Going out at night lowers my inhibitions - it's easier to get emotional, excited and pumped up," she said, adding that even without alcohol, late-night meals often make her feel tipsy. Even better, she rarely spends more than 100 yuan ($14) on her "feast".
After spending at least five days a week wearing sensible clothes and black-rimmed glasses as she types computer codes in a cramped cubicle, Gao tends to dress up and wear light makeup for her nighttime excursions.
"I am not trying to impress anyone by styling my outfit," she said. "I just want to look different in that setting, where I deviate from my usual dietary habits and normal sleeping hours."
She compared eating sumptuous food with friends late at night to taking a hot bath. "Simple though it is, some people choose the latter to unwind, but I prefer the former as a mental break," she said.
Like Gao, Wu Tong, 26, who works for a financial company in Beijing, emphasized the social aspects of late-night meals.
As a veteran nocturnal diner, he said he is no longer driven by a great liking for "crowds of people" and "simply chilling out" - the things that initially lured him to the nighttime food stalls that lined the backstreets outside his campus.
"Nowadays, I suggest late-night gatherings out of a desire to catch up with my friends' latest situations and vent my frustrations about work or issues in my personal life," he said.
Wu is now a frequent weekend patron of nighttime landmarks such as the trendy Sanlitun village and the Guijie gourmet strip in Dongcheng district, where the aroma of bubbling hotpot broth wafts from well-decorated eateries and customers form long lines outside food chains that specialize in crawfish.
"The routine is pretty much the same as the old times because we gulp down grilled seafood and sip beer. But in addition to talking big and daydreaming, there are also more serious discussions about things such as career prospects, relationship anxieties and potential investment plans," he said.
"We all have unresolved issues in life that upset or baffle us, and thrashing them out with friends over a hearty meal always makes me feel better."