The time of their lives
Share - WeChat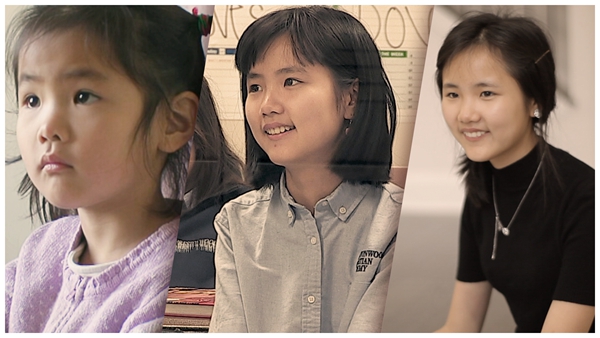 Life finds its own way
To reflect the development of the children as a result of their choices, a five-episode TV documentary, Post-00 Generation, was broadcast on China Central Television in 2017.The best friends from kindergarten each set off on different paths in life, whether by accepting an "orthodox "education at schools in Beijing, or by living abroad. Some things, however, did not change: The boy who had "his own choice" is still not talkative in public, even in his teens.
For the production team, Chi Yiyang and Wang Sirou, both 18 now, are "two children with outstanding personalities and with the most attractive stories" among the group in Kids Kingdom.
The latest production in Zhang's long-term project, Born in 2000, features the two young people, who were deliberately omitted from Post-00 Generation, and hit art house cinema screens across the nation on Sept 3.
According to executive director Yu Ming, the team extracted nearly 300 hours of footage of just Chi and Wang from among the total 1,000-plus hours of material that has been accumulated since the start of the project.
"It was not an anthropological experiment to gather an abundance of material from a series of samples," Yu says. "But there were so many surprises that we had to keep our camera rolling."
Chi, once the naughtiest boy in the kindergarten who always wanted to be a "hero", faces new challenges. Feeling aimless at school, Chi says that he doesn't even know what he wants to do in the future. He rediscovers his sense of confidence and purpose on the field, representing China at a global competition as part of its national youth American football team.
Wang, who is called Rose in the documentary, has dreamed of being a "princess" since she was a little girl. However, studying in the United States at a Texas high school, far from her parents, she struggles with the harsh realities of her situation. Tense relationships with her host families and classmates make her doubt whether she made the right choice to study abroad.
As the documentary unfolds, her story reveals a silver lining that will have a huge impact on her future.
"What really impressed me is that the parents were very supportive of their offspring's personal decisions," Zhang says. "When problems arose, they didn't scold their children, but worked through the issue and tried to be reasonable."
According to Fan Qipeng, producer of Born in 2000, the documentary is set to be screened in the US later this year, giving overseas audiences a fresh understanding of China's younger generation.