Technology enlisted in ongoing battle to preserve grottoes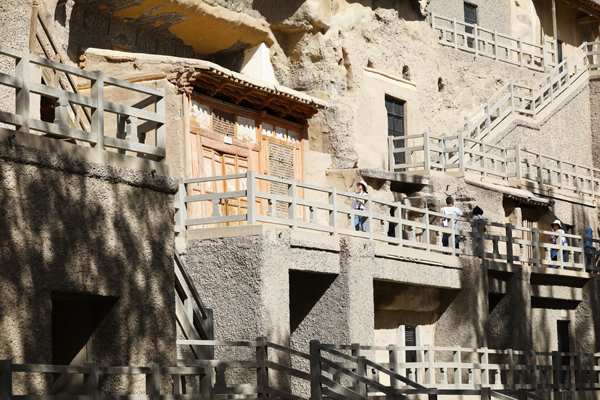 LANZHOU-Summer is the busiest season for staff at the Mogao Grottoes, as more than a third of the annual visitors to the UNESCO World Heritage site arrive during the vacation time.
Last year, the tourist attraction welcomed almost 2 million visitors.
Sitting in Dunhuang, Northwest China's Gansu Province, the Mogao Grottoes' 735 caves are home to a priceless collection of Buddhist artwork-more than 2,000 colored sculptures and 45,000 square meters of murals-all created by ancient worshippers.
However, visitors can only view about 110 of the caves.
"Too many visitors will affect the temperature, humidity and concentration of carbon dioxide in the cave, leading to repeated dissolution and crystallization of salt. This will cause the murals to decay," says Su Bomin, vice-president of the Dunhuang Academy, which manages the grottoes.
Therefore, multiple measures have been taken to preserve the paintings. In 2014, the academy opened a ticket reservation service and curbed the number of daily visitors. This summer, it has set a cap on the number of visitors every hour between 8 am and 3 pm, and no more than 12,000 tourists who have not booked tickets in advance are allowed to enter.
"The new measure has significantly lowered the capacity pressure at the site," says Li Ping, a member of the academy.
Scientific preservation
Over the years, countless antiquarians and experts have devoted their lives and careers to the protection and restoration of the cultural relics in a bid to delay their aging.
Li Yunhe, 86, has been repairing and restoring the ancient grottoes since the 1950s.
"I have repaired over 4,000 sq m of murals and more than 500 colored sculptures," says Li. "I have to keep updating my techniques to better restore the cultural relics."
A monitoring and early warning system also plays a key role in its conservation.