Technology enlisted in ongoing battle to preserve grottoes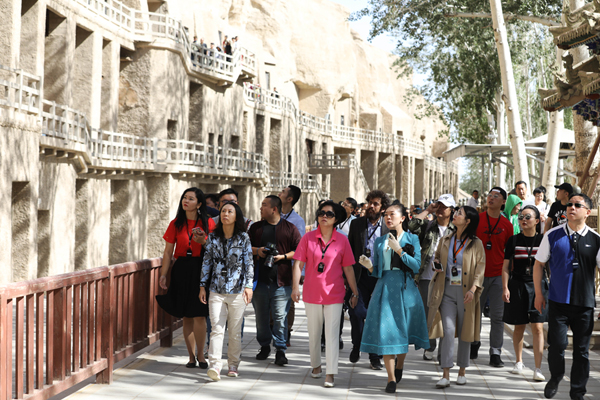 The Mogao Grottoes began monitoring the nearby environment as early as the 1960s. In 1989, a meteorological station was set up and, in 2011, the current monitoring system was put into use.
Now the meteorological environment, cliff conditions, possible natural disasters such as floods and earthquakes as well as the interior environment of the caves are all under close surveillance, with the site closing to tourists once the temperature, humidity and carbon dioxide density threaten to exceed safe levels.
"All the data is automatically recorded every 15 minutes. We are studying the relationship between this data and the rate of the decay to continue exploring appropriate preventive measures," says Guo Qinglin, head of the academy's conservation institute.
In recent years, extreme weather has posed new threats to the grottoes. Rainfall recorded at the grottoes in July was the most since 1989, when the academy began tracking records of precipitation.
Thanks to a flood control project built in 2013, the downpours caused limited damage to the grottoes.
Digital push
Despite all the efforts of the academy, it is frustrating that these ancient grottoes will inevitably vanish some day.
However, the digitization of the Mogao Grottoes is currently underway, a project that will permanently preserve its glory.
By visiting the website Digital Dunhuang, visitors can immerse themselves in the images of more than 4,430 sq m of murals that span 30 caves.
The database is the result of more than three decades of work. In the 1980s, Dunhuang Academy China began partnering with research institutes and universities, including China's Zhejiang University and Northwestern University in the United States, to digitalize the ancient cultural relics.
At least 40,000 photos must be taken to digitalize a mural of 300 sq m. "Now we have collected the digital data of 180 plus caves," says Yu Tianxiu, who is leading the digitization work.
So far, the website has welcomed over 5 million visitors.
"We've tried many methods to bring the grottoes to life," says Fan Jinshi, honorary president of the academy. "We hope that the whole world will see the beauty of the Mogao Grottoes through Digital Dunhuang."