Aspiring tales about aspirations
Share - WeChat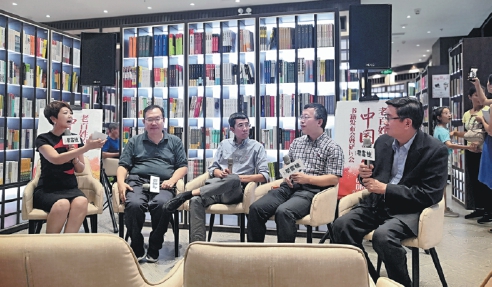 A new book presents stories linking ordinary people and the Chinese dream, Wang Ru reports.
The China Development Research Foundation has begun a project called the Chinese Dream of Ordinary People to chronicle ordinary people's ideas of the Chinese dream. The results have been published in a namesake book.
"When we held this year's China Development Forum, we considered what theme we could discuss with foreign delegates there, and the Chinese dream occurred to us," says Lu Mai, vice-chairman of the board of directors of the CDRF, who is also the chief editor of the new book that was launched in Beijing on July 27.
"The American dream has been widely discussed in many books, and we wanted to see what the Chinese dream means to ordinary Chinese people."
Lu says questions were asked about the lives of low-income Chinese people and if social mobility had become easier in China.
The foundation cooperated with Dataway, a market-research company in Beijing, on a survey during this year's Spring Festival holiday.
The book highlights 40 case studies. It includes stories of ordinary people of different ages, who live in different places and have different jobs. Some enjoy successful lives while others face obstacles and are confused about their futures.
One looks at two people, who grew up in the same village as friends and their families are close, but their life experiences are different. Sun Jiu (a pseudonym) left home, started his own business and became the head of a real estate company, while Sun Yuan (pseudonym) stayed in their village as a farmer and died from disease in 2008.
Although they remained good friends, they had different attitudes toward life. Sun Jiu encouraged Sun Yuan's son to leave home and keep up with the times. But the father didn't allow it since he believed that staying with family members in their village was a better choice. After Sun Yuan's death, Sun Jiu said, according to the book: "The world is developing. If you do not develop, you could easily perish."
While Sun Jiu seems to be successful in his career, he suffers great anxiety because his business has met with some difficulties. And his son, he says in the book, "has let him down".
"We have tried to reflect the changes in ordinary people's lives. Most stories are about progress and pursuing dreams, but some are about unsuccessful lives. Successful or not, this is life," Lu says.