In the stars: Living the life of Brian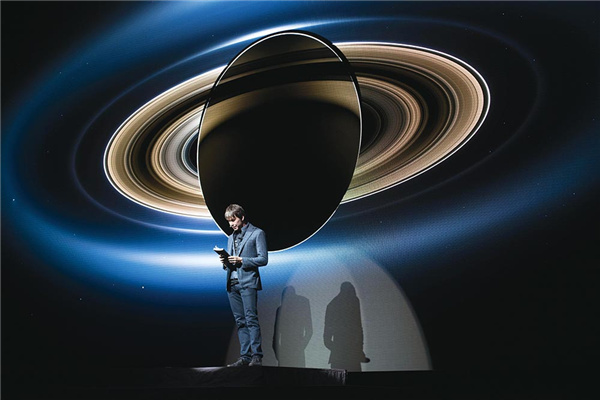 To spend time with stadium cosmologist Brian Cox is to make human beings reconsider their status - although tiny and fragile and finite in this infinite universe - as ecstatic and random rock stars of the galaxy
There was a remarkable moment when physics professor and TV personality Brian Cox was visiting the British Consulate in Hong Kong to deliver a promotional speech to journalists there. Ten minutes ahead of his talk, the cosmologist who had spent half his life looking for evidence of the origins of creation as far back as four billion years ago, looks up at the projection screen and says there was too much light shining on him that he couldn't see.
Is there a blind that can be lowered, he asks? No. "Okay, I'll do my best, but you'll just have to come to the show to see these images," he jokes, with his mix of wild-eyed, disciplined-mind, boy wonder-esque persona. Cox is referring to his "stadium cosmology" performance, the Professor Brian Cox Universal World Tour, which landed in Hong Kong on June 5, and also visited Singapore, New Zealand and Australia.
In person, Cox burns like a comet, enlightening eyes and minds by the nanosecond. He uses state-of-the-art graphics and imagery from telescopes and space probes in his show, with ultra-high-resolution LED technology helping explore the latest missions to planets, the nature of space and time from the Big Bang to black holes, and the origin and fate of life and intelligence in the universe. He even "journeys" around and into a black hole. "On this new tour, I'm going a step further with technology," he says. "And I hope it'll offer people a completely new perspective on our place in the universe."
A former pop star of the 1980s and '90s, Cox is today a professor of particle physics at the University of Manchester.
He's also an author, most recently of Universal: A Guide to the Cosmos (with Jeff Forshaw), and a broadcaster, known for highly acclaimed BBC science programs. Cox combines the best of David Attenborough, Carl Sagan and millennial thinking in his makeup. In an exclusive chat, we got to know the 51-year-old boy wonder of physics.
Was there a defining science-fiction movie for you, like Forbidden Planet or Creature from the Blue Lagoon?
I don't think it's a particularly prescient movie, but one of the earliest great movies I saw was Alien. I saw it in 1979 - so I was 11 - in the film club at school. And I was into spaceships at that time. So I watched it and got the full Ridley Scott.
The one thing that always strikes me about science fiction in those days is that they got the space flight part wrong. For example, even in 2001: A Space Odyssey, they absolutely overestimated space flight capability and yet they completely underestimated computing power, which is very interesting. In this respect, cinematically, we have always overestimated our spacecraft, but always underestimated our communication devices and computing powers.
In terms of influence, there's Arthur C Clarke's Childhood's End, which I read when I was quite young. It had a massive influence on me. I just reread it; it's really a great book, but also strange and unusual, and there's one great moment. Although it's set in the mid-21st century, roughly, and the aliens have come down and mankind is about to perish under a different species, there's a part where an astronomer forgets the name of a star and he goes to a library to look it up in a book. And you think to yourself - of all the things that will be missed by the year 2050, will a physical library be one of them?
It seems the Chinese invented and thought of just about everything prior to everybody else. What is China's relationship with cosmology like in history and how much has the West, if ever, borrowed from that?
If you're talking historically, I don't think I know. I would have to research that. Something like cosmology is a well-defined science as the large-scale study of the universe. So I wouldn't say there's only one way of looking at the universe. I don't know about it culturally or what Chinese cosmology was to people living in the 15th century. There are different ways of studying nature. What I do know is that in my field today, China is looking at building big accelerators, which is absolutely along the model of what we've been doing. Globally, it's a very exciting time for cosmology and science generally.
Everything cosmological seems like the search for the Holy Grail. But if you had to single out one area that's still most thrilling to consider, what would it be?
Dark energy is the one thing still out there. It tells us there may be something very, very profound about the way that space-time behaves - and why the universe is accelerating at the speed it is.