New rice strain set to boost food security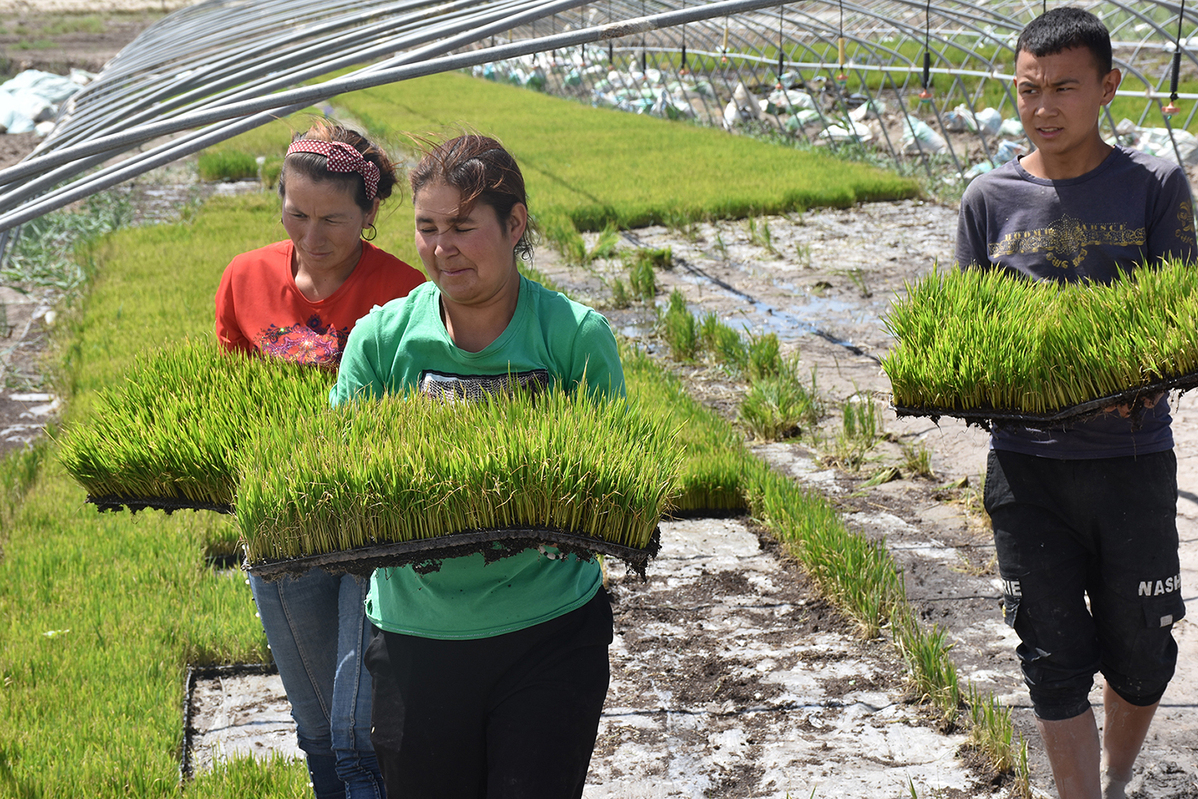 Fresh fields
The success of the saline-alkali tolerant rice experiment-which President Xi Jinping mentioned as one of the year's key achievements in his New Year's speech on Dec 31, 2017-means Xinjiang could become a "rice basket" to rival those on the plains of Northeast China and the areas along the Yangtze and Pearl rivers.
Yuan Longping, an agricultural scientist dubbed the "father of hybrid rice", who founded the center in 2017, said one of his dreams is to transform about 667,000 hectares of saline-alkaline land and produce at least 30 million metric tons of rice every year; enough to feed an extra 80 million people.
For China, whose population of about 1.4 billion is still rising, food security has always been, and will remain, a pressing issue.
However, in recent years the country's urbanization process has resulted in the loss of farmland, meaning scientific development must fill the gap.
To achieve Yuan's goal, the center has been developing technology to improve soil conditions and identify saline-alkali tolerant rice strains to cope with different climates, salinity levels and soil structures.
In addition to conducting research in Xinjiang, the center has five other experimental paddy fields in the Bohai Gulf in the east, in the northeast and in the southeastern coastal areas. Together, they represent virtually every type of saline-alkali soil nationwide.
"Although China can secure sufficient supplies of rice at the moment, we must prepare for rainy days far in advance, especially in light of the ongoing trade war with the United States," said Zhang Guodong, deputy director of the center, at the headquarters in Qingdao.
"If everything goes to plan, we will submit our saline-alkali tolerant rice strains to the Ministry of Agriculture for certification later this year. It will be the first time that saline-alkali tolerant rice strains have been grown commercially in China. We hope to plant more than 667,000 hectares of saline-alkali tolerant rice across China in the next five to eight years.
Huawei Technologies has also helped to improve the quality of the soil. The tech giant worked with the center to produce microchips that will allow an intelligent agricultural system to monitor real-time soil salinity and alkalinity levels and transmit them to the scientists.
"We have ensured that all technologies used in the cultivation of the saline-alkali tolerant rice have been independently developed by Chinese companies," Zhang Guodong said.
He added that in addition to the higher cost of growing the rice-the figures for which are difficult to ascertain-a shortage of water is a major factor that could cast a shadow over the new strain's future.
On June 15, nearly two weeks after the rice seedlings had been planted, Zhang Lishan rushed back to Bayiawat after receiving a call informing him that an unexpected power outage was interfering with the operation of the motor and pumps in a well that provided irrigation water to the paddy.