Improving lives of disadvantaged people
Share - WeChat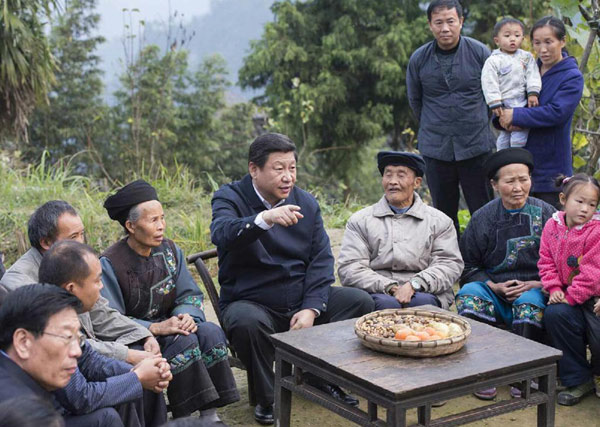 Make poor households confident
"When General Secretary Xi came to my house, half of the room was occupied by a heatable earthen bed, and the other half had two closets and a table. There was barely enough room to turn around," Tang Zongxiu gesticulated when speaking.
In the early morning of Dec 30, 2012, Xi came to Tang's house in Luotuowan, an impoverished village in Fuping county, Hebei province. Xi chatted with Tang, asking about her family's farmland, food supply and coal supply.
"It was freezing cold outside, but warm inside my heart," she said.
From 2013 to 2018, China has allocated more than 840 billion yuan ($125 billion) from the central budget to help poor people with minimum living allowances, medical aid, and temporary relief, and support people in extreme poverty.
The standard minimum living allowance in urban areas had been increasing by 9.2 percent annually from 2013 to 2018, and 14.7 percent for rural areas.
Today, the village's stone-paved paths have been replaced by asphalt roads. Tang's old shabby house becomes bigger and spruced up, equipped with advanced facilities, such as underfloor heating and a kitchen ventilator.
Tang has been lifted out of poverty and plans to work for a village collective enterprise this year with her husband, where they can earn thousands of yuan a month.
Speaking of her biggest wish, Tang smiled, "My life is getting better. I wish General Secretary Xi can come back and have a look."