Hong Kong people express support for police, calling for end to violence
Share - WeChat Hong Kong people come out in large groups to support the police.
Police are praised for professionalism, exercising restraint.
Police have to deal with the enormous workload and emotional stress.
HONG KONG - Large groups of Hong Kong people visited several police stations in Hong Kong Special Administrative Region (HKSAR) Saturday to express their firm support for and utmost respect to the police force.
The scene stood in stark contrast to the chaotic and violent besieges of police stations by black-clad protesters on many nights over the past weeks.
"The police have been working really hard to safeguard social order. We came here to show our support," said a resident surnamed Chan, who visited Kwai Chung Police Station with his wife and son. The boy gave the police a hand-written card as a gift.
"I hope our children can learn to love peace and how to act as righteous people," Chan said. "I also want to see society restore order and for there to be no more violence."
Local business leader Raymond Tsoi Chi-chung and his friends visited Central Police Station to express their support to the "core force for protecting Hong Kong."
"Recent violent incidents have reduced Hong Kong to an economic trough," Tsoi said. "I hope Hong Kong people can focus on stabilizing the economy."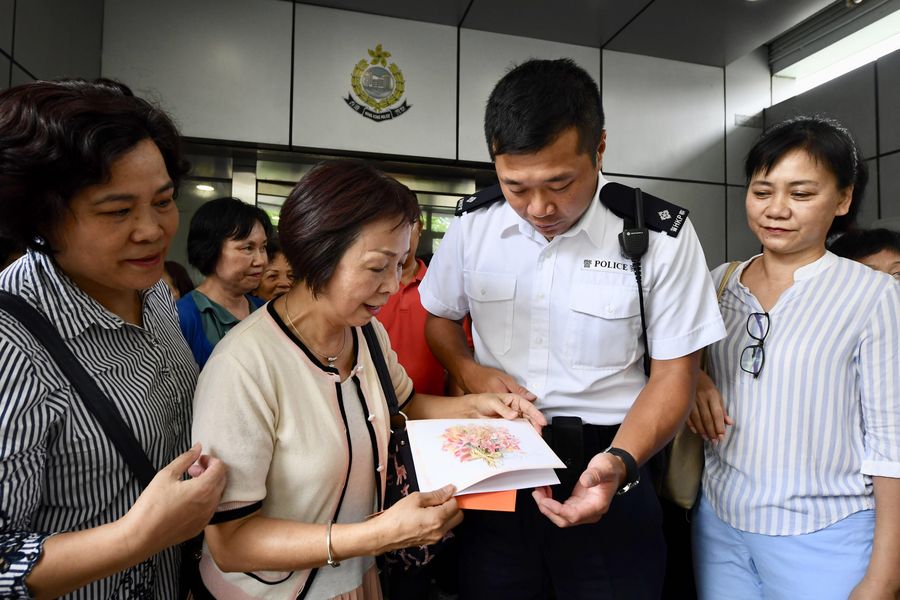 A police officer surnamed Lau has become an internet celebrity after a video went viral showing him confronting a crowd of protesters that had surrounded and attacked him.
"Hong Kong police are capable of coping with the mobsters, but it has torn my heart out either to hit them or not, as they are also Chinese," said Lau in a text message to a reporter, which drew immense online support for both his bravery and compassion.
Carrie Lam, chief executive of the Hong Kong Special Administrative Region, on Friday visited Wong Tai Sin Police Station and dormitory quarters which had been attacked by radical protesters. Lam expressed thanks to the police personnel for their hard work to safeguard public security in Hong Kong.
Lam also demanded renovation of the damaged buildings and heightened security in the dormitory quarters to give the peace back to the police families.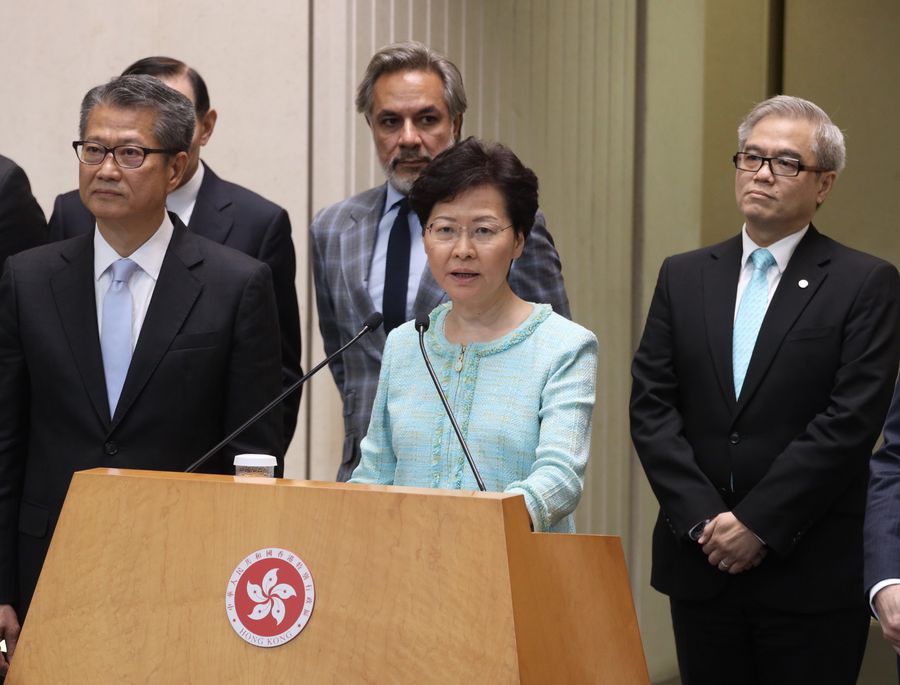 Professional and restrained
Over the past two months, the Hong Kong police have been praised for showing professionalism and exercising restraint with the use of appropriate force to cope with violent protests.
"The approach the police adopted to dealing with violence is appropriate and balanced," said Chan Man Ki, founding president of the Small and Medium Law Firms Association of Hong Kong.
Chan noted that far from rallying in a peaceful manner, the protesters have committed various offenses on the street, ranging from setting fires and throwing rocks and iron bars at the police to using offensive weapons, including explosives and homemade sharp objects, and besieging police stations.
"Facing violence of such degree, the police had every right to use appropriate force in an effort to end violence and protect public safety," said the legal expert.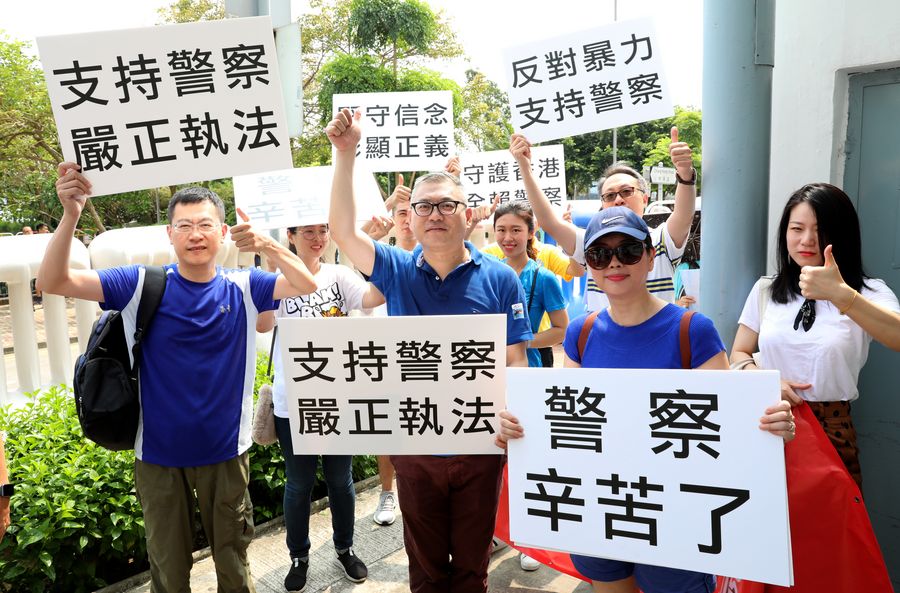 During the protests, police officers balanced the exercise of the right to freedom of speech for protesters and the right of other people to use the roads, a Hong Kong police officer told Xinhua.
But police were mandated to take action when crimes were committed, said the officer, who declined to be named or disclose his rank.
"All the duties assigned to on-site police officers bear one characteristic: totally not proactive," he said.
The officer said he saw in person one of his colleagues hit hard by a protester in the face.
"Part of his eyeball collapsed, which severely affected his eyesight. The injury may be permanent," he said.
In response to the attacks, the police officer said his colleagues only resorted to the minimum use of force, such as using batons, tear gas and rubber rounds to disperse the crowd. "We never used any lethal or deadly weapon against the protestors."
Elsie Leung, former secretary for justice of the HKSAR government, said various actions of the protesters have gone far beyond the realm of peaceful demonstrations -- ranging from storming and vandalizing the Legislative Council building and storming the institution of the central government in Hong Kong to paralyzing the transport network and assaulting the police force with bricks and petrol bombs.
"No one is above the law," she said, stressing that all the offenders should be brought to justice.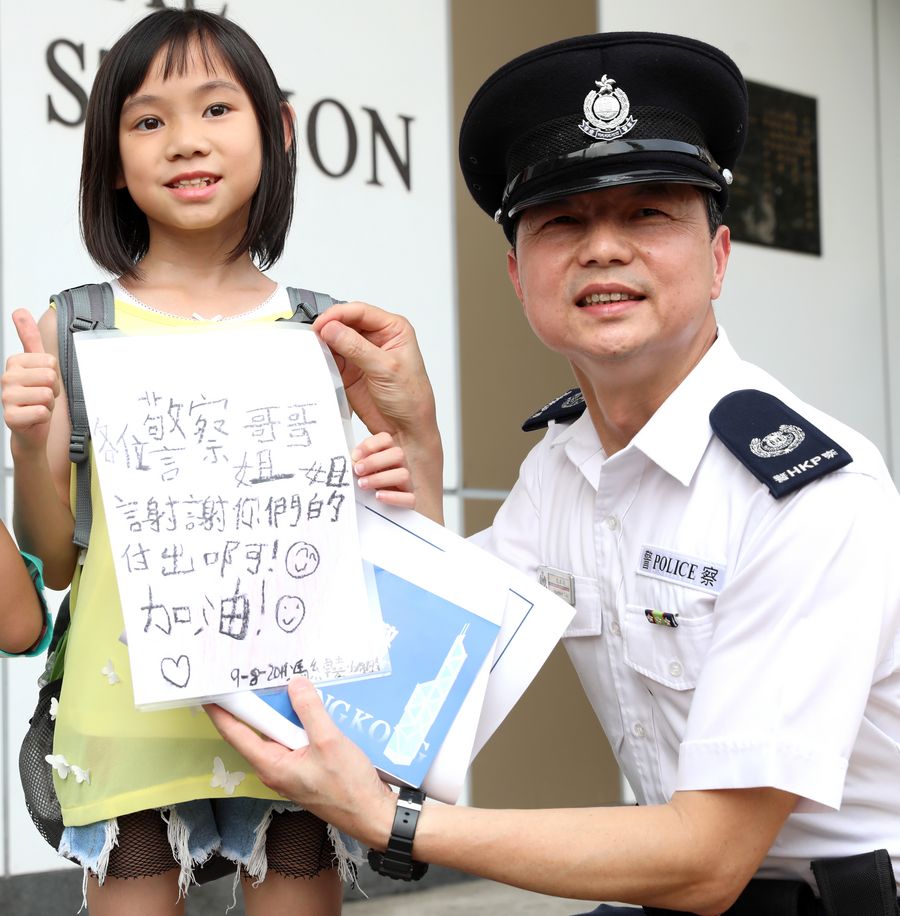 Enormous stress
While battling to contain violence on the street, Hong Kong police officers had to face online assault, enduring all sorts of ridicule, humiliation and even threats.
"Many police officers are working more than 10 hours each day. They are also under tremendous mental stress for being assaulted by the radicals on social media," said Lam Chi-wai, chairman of the Junior Police Officers' Association of the Hong Kong Police Force.
"Even so, they are still working hard and sparing no effort to safeguard social stability," Lam said.
"We are facing a very serious situation of harassment on ourselves and family members, including kids," the unnamed police officer said. "We were being attacked at every angle imaginable."
In some online chat groups, the radicals used abusive language against the police, drew caricatures and made videos to embarrass them and even revealed their personal information as a way of intimidation and threat.
The enormous workload and stress on the police officers have taken a toll on their families members.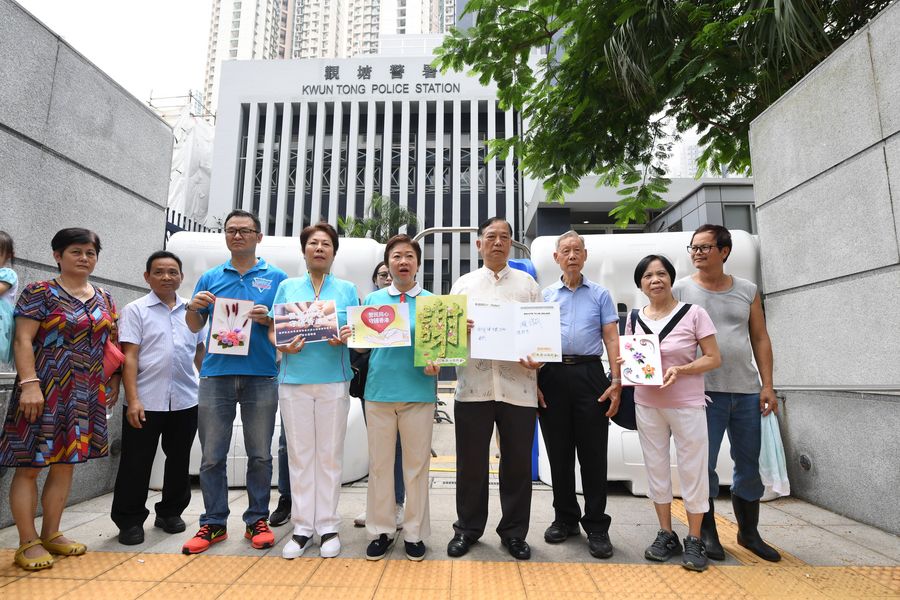 During a recent rally held by police supporters, organizers played an audio clip featuring the worrying wife of a police officer.
"As the spouse of a police officer, I couldn't sleep many nights and don't know what to do," she said. "But I feel obliged to speak out (against violence)."
The audio clip ended with the sound of a little girl asking, "Daddy, when are you coming home?"
A Hong Kong resident surnamed Wong said many of her family members are working on the police force, and she felt heartsore to see them work day and night to keep public order.
"I hope the chaotic situation will subside and we can get back to our normal days as soon as possible," she said.
The central authorities have also expressed unswerving support for the Hong Kong police.
At a press conference in late July, Yang Guang, a spokesperson for the Hong Kong and Macao Affairs Office of the State Council, expressed understanding for the Hong Kong police force and their families for the tremendous stress they have been under.
"I'd like to take this opportunity to pay our high respect to the outstanding Hong Kong police officers who have been on the job, performed their duties, showed no fear, and endured a lot of humiliation," said Yang.