Buffett lunch postponed after medical emergency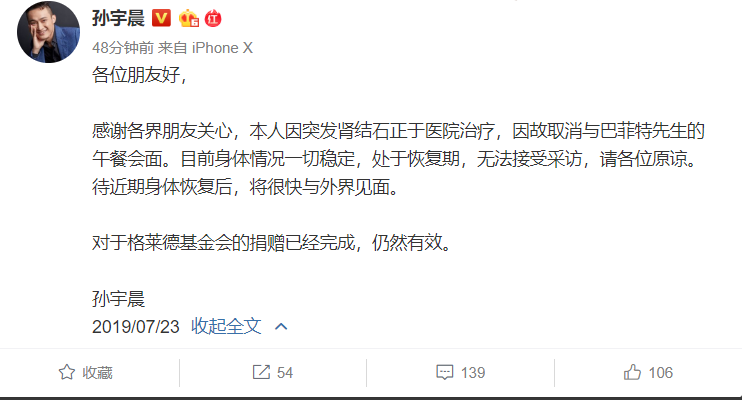 Chinese entrepreneur Sun Yuchen canceled Thursday's lunch meeting with US business magnate Warren Buffett due to a sudden kidney stone attack, Sun announced via his Sina Weibo account early Tuesday morning.
Sun's Tron Foundation announced the postponement of the Buffett lunch and press conferences, according to a tweet from the foundation's official account.

Parties agreed to reschedule at a later date, the tweet added.

Sun was originally scheduled to have lunch with Warren Buffett and seven invited guests on July 25 in the Michelin 3-star restaurant Quince in Jackson Square, San Francisco.
After undergoing treatment in hospital Sun is in stable condition and recovering, according to the announcement.

His donation to the Glide Foundation has been completed and is still effective, Sun said on the social media platform.

Sun declined any interviews and said he would meet with the public after his recovery.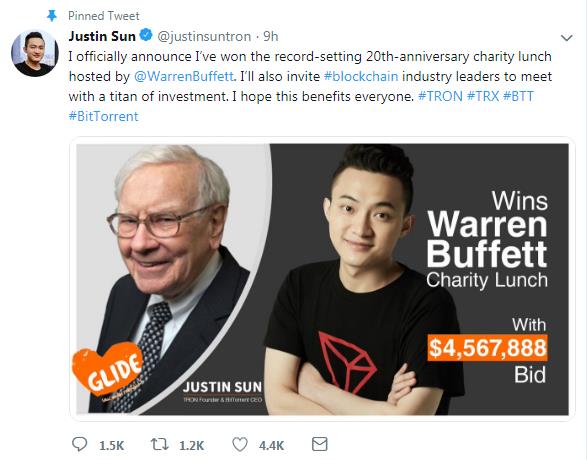 Sun Yuchen, founder of Tron and CEO of BitTorrent, won the auction for this year's Buffett lunch with a $4,567,888 bid, a record high since the lunch was launched 20 years ago.
The Chinese cryptocurrency entrepreneur announced his win on his Twitter and Sina Weibo accounts on June 3, saying "it will be a great opportunity for mutual understanding and knowledge transfer."

Sun won the bid via a five-day online auction on eBay and the money will be donated to the Glide Foundation, which is located in San Francisco's Tenderloin district and serves the poor, homeless and those battling substance abuse.
A graduate of the University of Pennsylvania, Sun founded Tron in Singapore in 2017. Tron's market value reached $2.56 billion, becoming the world's 10th largest cryptocurrency according to data provider CoinMarketCap.com.

Sun, himself a controversial figure, was questioned about the legal status of his two main businesses Peiwo App and Tron Network, the 21st Century Business Herald reported.

As creator of the Tron cryptocurrency and head of its namesake foundation, Sun used to respond to people's questions about the source of the record-setting donation by saying it was from legalized income via his company BitTorrent, the report said.

Buffett is a known skeptic on all things cryptocurrency, but Sun, who convinced Buffett to move the charity lunch from its traditional New York location to Silicon Valley, stated he believes he can change the billionaire's stance on the matter, blockchain and cryptocurrency outlet Cryptonews reported.