Sun wins a lucrative Buffett lunch for $4.567m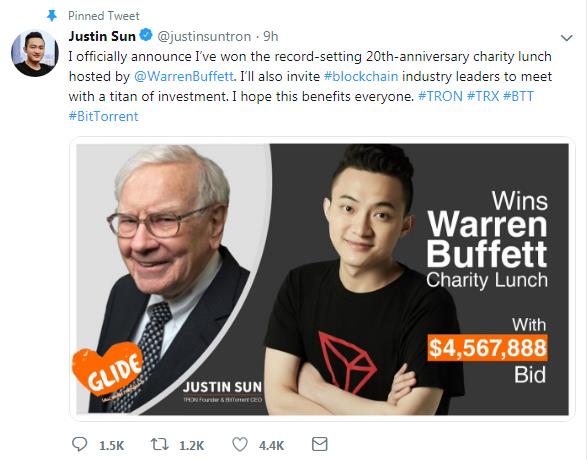 The record for a luncheon with US business magnate Warren Buffett was raised this year to a whopping $4,567,888, and the record holder is 28-year-old Chinese cryptocurrency pioneer Sun Yuchen.
Sun confirmed the news on his social network accounts on Monday. On his Sina Weibo account, Sun claimed that he is a long-time believer of Buffett's value investment strategy. He also wrote on his Twitter that he will invite blockchain industry leaders to meet with "a titan of investment", adding that "I hope this benefits everyone."
Bidding on lunch with the "Oracle of Omaha" took place from May 26 to 31 on eBay. The starting price was $25,000. The winner of the auction will dine with Buffett at the Smith& Wollensky steak house in New York.
Held for the 20th consecutive year, the proceeds from the online auction will benefit the San Francisco-based Glide Foundation to help the homeless in the area. The previous record of $3,456,789 was achieved in 2016.
Sun, a graduate from the University of Pennsylvania, founded Tron in Singapore in 2017. According to data provider CoinMarketCap.com, Tron's market value reached $2.56 billion, making itself the world's 10th largest cryptocurrency.
However, the 89-year-old investment guru does not seem to be much of a fan of cryptocurrency. In an interview with CNBC last May, the Berkshire Hathaway CEO called cryptocurrencies "nonproductive assets", saying that such digital currency "will come to a bad ending."
Sun admitted on his blog on Tuesday afternoon that the legendary tycoon holds such a grudge against cryptocurrency. "But he also pointed out the potential of blockchain, which is the core technology of all cryptocurrencies," Sun said.
Sun added that Buffett has overlooked the potential of companies such as Amazon, Google's parent company Alphabet and Apple.
"Even the most successful investor in history will sometimes miss the upcoming wave," said Sun.
"I think cryptocurrency is in line with long-term value investment strategy. It takes a long-time and strenuous efforts to educate mainstream society about the value and application of blockchain technology. Instead of pursuing short-term profit, it is our goal to tell everyone that true investment is closely related to vision and execution," he added.
Over the past two decades, three other Chinese billionaires have won the bidding for the lunch. Duan Yongping, founder of BBK Electronics, won with $620,100 in 2006. Renowned private equity investor Zhao Danyang won the bidding with $2.11 million in 2008. Zhu Ye, chairman of A-share listed company Zeus Entertainment, won the auction in 2015 with a bid of $2.34 million.