Joining road warriors' journey to the west
Share - WeChat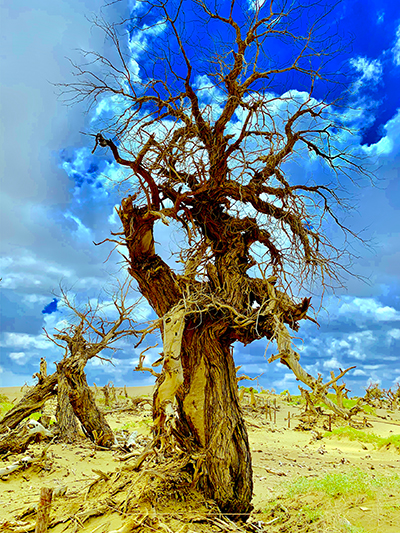 A 4,000-kilometer, 11-day road trip from Beijing to the Qinghai-Tibet Plateau connects China's forests, mountains, deserts, grasslands and tundra. Erik Nilsson takes the wild ride across the nation's north to explore the landscapes, wildlife and cultures its geology and geography sire.
The yak kicked me. It was my fault. I'd disembarked from the wrong side. Turns out, at least in Qinghai province's Qumarleb county, you mount and dismount yaks from their left.
The animal's hoof repeatedly punched into my leg like a jackhammer.
Lesson learned.
Fortunately, the bull's volleys only scraped and bruised my knees and shins, and painted my jeans with impressionist hoof prints.
I didn't even have to limp, I realized, gratefully, upon taking my first steps after getting off the creature.
Moments later, a beaming monk with a single tooth, whose nomadic family had just poured us yak-milk tea in their earthen dwelling, bent down and popped back up clenching a wild mushroom he'd just plucked from the prairie.
He offered it to us. A few folks who'd joined our cross-country road trip from Beijing nibbled the local delicacy.
These were our last shared moments before I parted with my travel companions, who'd packed two SUVs to undertake the 4,000-kilometer road trip from Beijing to Qumarleb's outskirts in Qinghai province's Yushu.
The others went farther and further.
I'd ridden with, depending on the leg, five to seven other foreigners, to discover the open road across the country's north. That is, the forests, deserts, grasslands, mountains, plains and tundra of Beijing, Hebei, Shanxi, Inner Mongolia, Gansu and Qinghai.
One of the drivers, a British road warrior and longtime friend, has driven over 180,000 km throughout China over the past 13 years.
Most people avoid bad roads. Richard seeks them out. He's that kind of guy.
We call him, "Captain". He deserves the title.
On our first day setting out from the capital, we stopped at a yurt in a small town in Hebei province for lunch.
That evening, we indulged in copious pours of horse-milk liquor with locals at the night market in the Inner Mongolia autonomous region's Ordos city to celebrate Captain's birthday.