Joining road warriors' journey to the west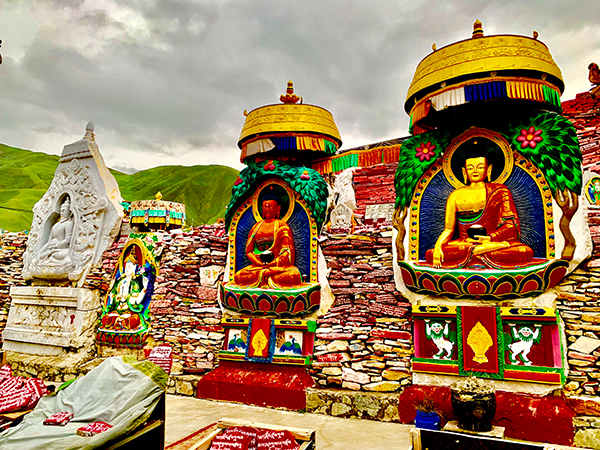 Rainbow climbing
We then headed to the Rainbow Mountains in Gansu province's Zhangye.
The peaks, indeed, live up to their colorful name. Posting photos of them online with the hashtag#nofilter is an enduring trend - for good reason.
The banded-sandstone range's expansiveness only came into full - make that a bird's-eye - view when I gazed over them from aboard a helicopter.
That evening, we hiked through the stony spires of Zhangye's lesser-known Ice Valley. Groves of rocky pillars seemed to prop up the sunset.
We spent the following night on the grasslands near Qinghai Lake.
In the morning, a patchwork of yellow, red and blue blooms flooded the massive water body's shores.
Yaks, sheep, cows, horses and - oddly - a few alpaca trotted along the banks.
Indeed, the cause of most traffic jams during our trip had hooves rather than wheels.
Road signs warned of livestock crossings. So, too, did the roadkill.
The occasional carcasses of smashed yaks reminded me of a local joke.
A driver from the city hits a yak, destroying the animal and his vehicle. The motorist furiously howls at the nomad: "Why'd you lead your yak on the road! There's no grass on the road!"
The herder thinks for a moment. He calmly responds: "Why'd you drive over my yak? There's no pavement on my yak."
I've known this quip for years, but actually seeing livestock that seemed to have been crushed by cars reminded me that this humorous tale takes inspiration from deadly reality.
In other places, crumpled vehicles that'd ripped through railings served as reminders to drive safely.
In Qinghai, we saw dozens of stone mounds assembled at the sites of traffic fatalities. The deceased's loved ones built them as markers of their beloveds' exit from this world and as portals to the next, locals say.
Signs in Tibetan, Chinese and English also sometimes warned of "hazardous permafrost roads".
The tundra's thaws corrugate their pavement, so driving over them is like sailing over waves. They make some people seasick on land.