Joining road warriors' journey to the west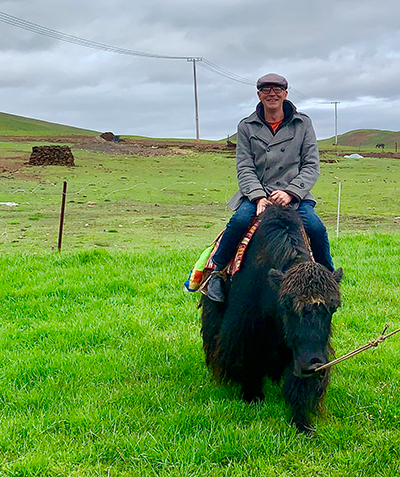 Desert deluge
The next day's scenery dissolved from forests into scrublands that eventually evaporated into the sands of the Gobi.
In some places, the earth blistered into bizarre mounds like toad skin. Other areas appeared as if dollops of rock had been squeezed from nozzles in the sky over dusty expanses.
Mountainous stretches of the wasteland churned with dull purple, red, brown and green hues. It's as if a cloudburst had washed a rainbow down to stain the land, leaving a muted residue on the rocks.
Speaking of rain - it was the last thing we expected to encounter in the Gobi. That is, except for the flood.
One of our cars had to whoosh through a river that'd abruptly materialized across the road. The driver deliberated for some time. If he didn't attempt to plow through the water that was nearly as high as his hood, he'd be stranded in the desert, indefinitely.
He made it. But the resistance created by the water flayed the license plate from his vehicle's front.
You don't anticipate such situations in the desert, but they happen.
Camels plodded along the isolated dunes that melted into slop in the downpours. Their hooves punched heart-shaped divots into the terrain.
Solitary trees that seemed misplaced on the otherwise-barren landscapes were sheathed with flamboyant prayer flags. They testified to the tenacity of life and vibrancy of culture.
The next day, we saw the bald skeletons of trees bleached by sun glare in the Ghost Forest that borders the ruins of Khara-Khoto, or the Black Castle, in Inner Mongolia's Alxa League.
Branches twisted from contorted trunks like arms thrust toward the heavens in the throes of a mass demise.
They'd shriveled when an oasis dried up long ago, and the parched climate had preserved their remains like mummies'.
Tidal waves of sand crashed in slow motion against the ramparts of Khara-Khoto, a Silk Road outpost believed to have been forsaken in the late 1300s.
A mammal's skull glowered from atop the nub of a building. Other bones were scattered throughout the dead city's grounds. I wondered who'd placed them there - and why.