No reason not to be friends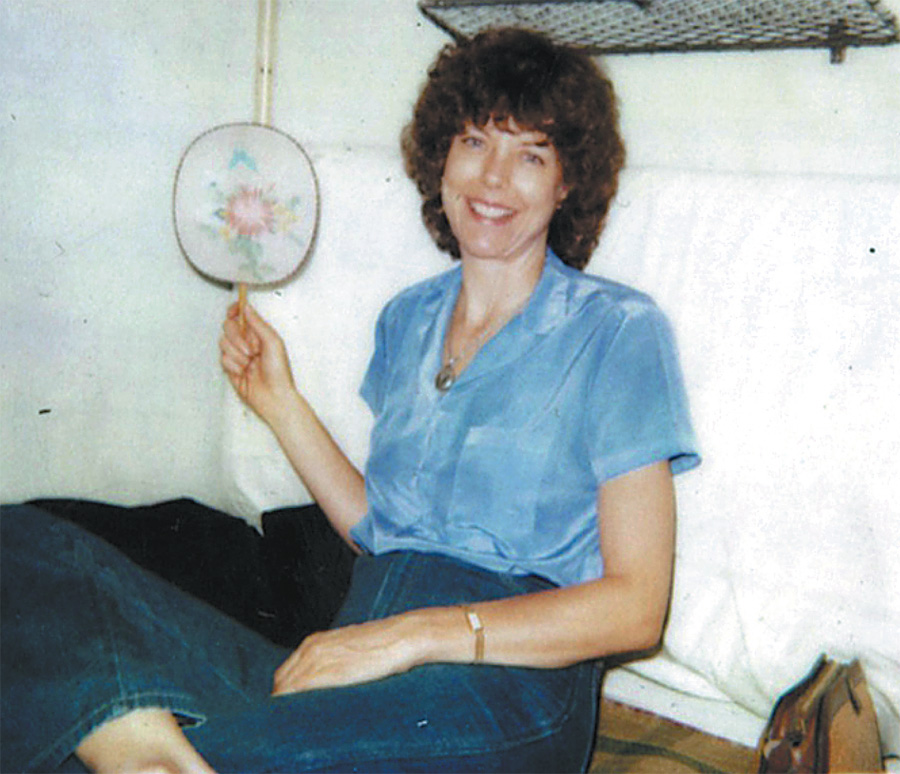 Former State College mayor talks about her own experience on trade in China
Looking at a photograph taken with a Polaroid instant camera, one can hardly tell that the curly haired woman sitting on a train bunk bed with a silk fan in her hand is the same woman now in her seventies, with clean short hair wearing a pair of wire framed glasses.
It was in the summer of 1983 when Elizabeth Goreham made her first trip to China as the coordinator for Gray Tool Company, a small family-run business from Houston, Texas.
Her companion took that photograph when they were traveling by train from Daqing in Heilongjiang province back to Beijing. The train ride took them 48 hours, which was almost double the time they spent flying from Houston to Beijing, with stopovers in San Francisco and Narita, Japan.
In the 1980s, the train was a major mode of transportation for Goreham and her colleagues to travel to different places in the vast expanses of China.
"The American people had great desire to work with China at that time," Goreham recalled.
The Gray Tool delegation then was seeking to establish a joint venture with the Chinese to produce metal valves used in oil drilling. The company's equipment was required to protect workers from being poisoned by toxic gas when extracting the oil.
Goreham said the two-week trip brought them to Beijing and Baoji in Shaanxi province, and the Daqing and Shengli oil fields in "an effort to boost mutual trust for our cooperation".
Apart from the large amounts of time spent on train travel, Goreham also remembered the countless hours of meetings, cups of tea and negotiations on every detail for a possible cooperation deal.
Although an agreement was not reached due to an appearance of another competing company from the United States, the trip that August is still one of Goreham's most wonderful memories.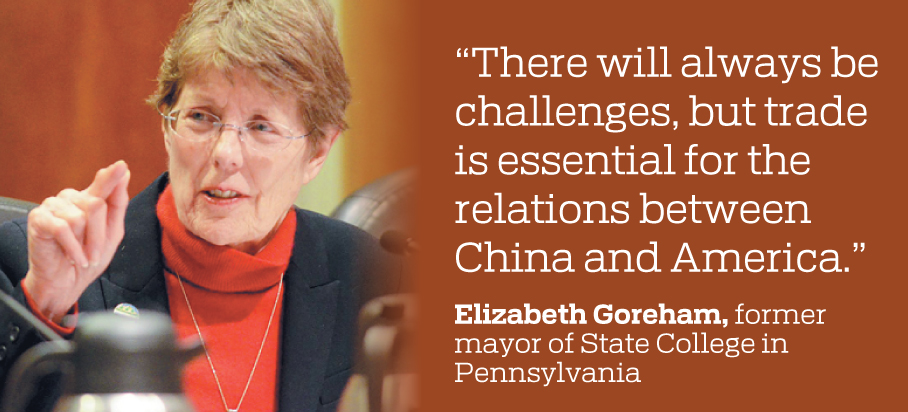 "There will always be challenges, but trade is essential for the relations between China and America," she said.
Following former US president Richard Nixon's historic visit to China, two-way exchanges between China and the US in various areas such as politics, the economy, science and technology as well as culture sprang up after the two countries established diplomatic ties in 1979.
According to statistics from China Customs, bilateral commodity trade volume between China and the US increased rapidly from $2.45 billion in 1979 to $17.49 billion in 1992.
"I feel the American and Chinese people just naturally like each other because of some similarities they have, such as the love for doing business," she said.
"The people of the two countries just have a feeling of connection."
At that time, Goreham also came up with the idea of getting into the metal scrap business with her Chinese partner, but later found out that more and more "Gorehams" had noticed similar opportunities in China's huge market and had already become successful in that area.
"Forget it," she said when recalling this at a cafe in State College. She was mayor of State College, a college town in Pennsylvania, from 2010 to 2017.
Going back to the United States with a good impression of the Chinese people, Goreham, who was in her forties then, returned to China in 1986 to take a three-month Chinese language course at the Beijing Language Institute, known as the Beijing Language and Culture University today.
"I practiced writing the strokes every morning," she said. "It was a good thing to learn a foreign language, but Chinese is really difficult."
Goreham can hardly remember the Chinese name she was given at the time, but she is sure that she loved all kinds of delicious Chinese dishes, with Kung Pao chicken being her favorite.
"Going to China really changed my life. I was deeply impressed by how strong the Chinese people were even though they lived a very simple life," she said.
Goreham also said that when China was a weak country in the past, it respected itself and now that China is becoming stronger, it is behaving in a humble way.
"I really hope that China and the United States can be friends and there is no reason not to be," she said.