Concentrated solar power projects fast gaining ground
Share - WeChat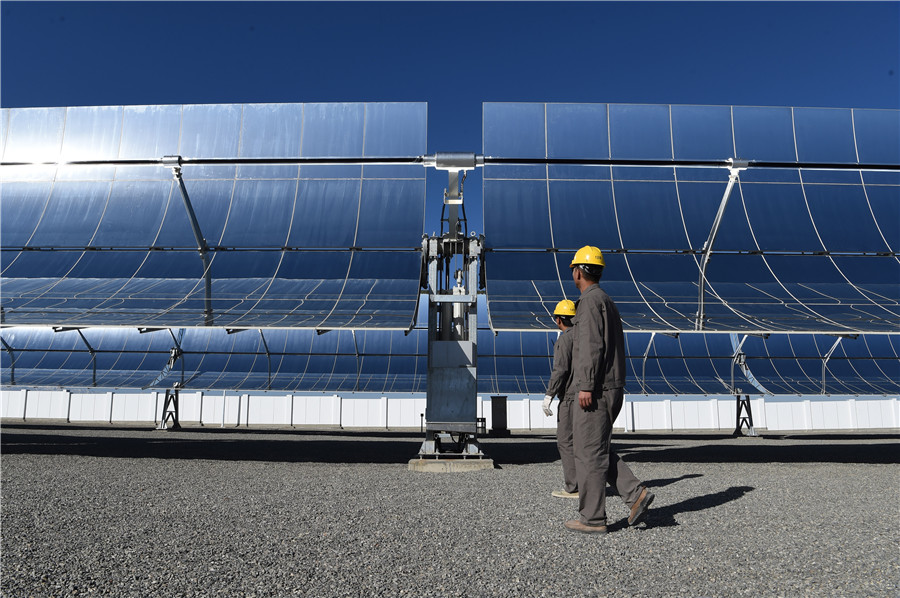 Innovative tech set to be an integral part of nation's electricity generation system
Concentrated solar power generation is making tangible progress in China, with the sector set to be an integral part of the country's current power system soon, said experts.
Concentrated solar power, or CSP, is a technology that uses mirrors to concentrate and reflect sunlight to drive traditional steam turbines to create energy.
Last year, three major CSP demonstration projects having an installed capacity of 200 megawatts in total were put into operation. These are China's first commercial CSP demonstration plant in Delingha of Qinghai province by China General Nuclear Power Corp, a 100-megawatt plant in Dunhuang, Gansu province, by Beijing Shouhang IHW Resources Saving Technology Co Ltd, and a 50 MW plant in Delingha co-invested by Helius New Energy Co Ltd and Zhejiang Supcon Solar Technology Co Ltd.
According to industry newspaper China Electric Power News, six CSP projects are likely to be put in operation this year.
The projects are among the first batch of 20 CSP demonstration plants approved by industry regulator, the National Energy Administration, with planned installed capacity totaling 1.35 gigawatts.
Preferential policies from the government helped ensure financial support to these projects. According to the National Development and Reform Commission, CSP projects that were put into operation by Dec 31, 2018, can enjoy a flat sales price of 1.15 yuan (17 cents) per kilowatt when trading with grid companies. The price is considered an encouraging move for CSP companies, as the average traded power price (with grid companies) in 2017 was only about 0.38 yuan per kilowatt, official data show.
"CSP plants have great environmental benefits as a type of clean energy compared with fossil fuels. CSP plants also generate more stable power than photovoltaic plants," said Han Xiaoping, chief researcher at energy analysis website China5e.
"Moreover, CSP allows power generation at night as current CSP plants are able to storage heat from the sun, and convert it into electricity at night, when people come home after a day's work, usually a peak period for electricity," Han said.
According to Han, CSP plants can be a great addition to the current power system, as electricity cannot be stored with current technologies.
"With three CSP plants already being put into operation, and six more on the way, China's development in the CSP sector is set to blossom," Han said.
Agreed Wang Jixue, deputy director of new energy in the China Renewable Energy Engineering Institute. Wang told China Electric Power News that although the market is still small in China, tangible achievements, including tech innovation in theory and practical experience, were made in the demonstration projects, with support from the government.
Lin Boqiang, head of the China Institute for Studies in Energy Policy at Xiamen University, was more conservative about the industry.
"The problem is that the cost of CSP projects is too high, speaking of the land they occupy and the expense of their equipment. That is a problem that hinders the industry's development and a problem many companies are trying to tackle," Lin said.
Qinghai Supcon Solar Power, the owner of the 50 MW CSP plant in Delingha, is one of those companies.
"Lowering building and operation costs is one of our major tasks in upcoming works," said Fan Yuhua, chief engineer at Qinghai Supcon Solar Power Co Ltd, a joint venture of Helius New Energy and Zhejiang Supcon Solar.
"Using domestic equipment is a good approach, but not many manufacturers in China are producing equipment we need due to limited industry demand," Lin said.
According to Lin, another problem that hinders the industry development is land.
"Building CSP plants and developing technologies need a large space, a big area so that they can place all the mirrors," Lin said.
"Land can be very costly, and that is one of the reasons why most CSP projects are being built in Northwest China where land prices are relatively lower, and of course they have good sunlight resources," Lin said.