Carbon emissions to taper off by 2030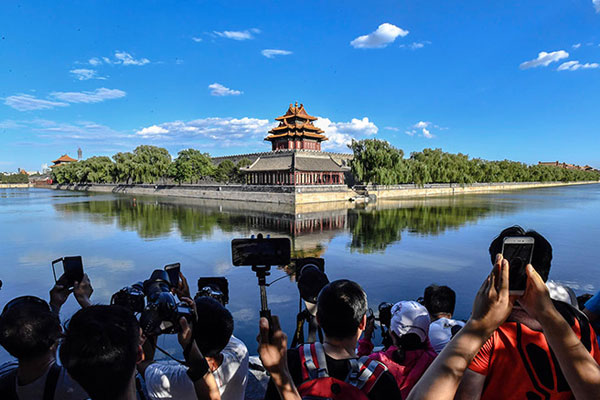 Carbon emissions of China's power sector will peak in 2027, and will reduce to 79 percent of that in 2005 by around 2030, more than fulfilling the sector's carbon reduction commitments within the Paris Agreement on climate change, a new industry report said.
In 2050, carbon emission intensity or energy expenditure per unit of GDP in China's power sector, will further decline to 5 percent of that in 2005, according to Bloomberg New Energy Finance, Bloomberg's primary research service on energy.
"China's power sector will go through a very efficient process of reducing carbon emissions, and the carbon emission intensity in 2050 is estimated to be below 52 percent of that compared with today," said Luan Dong, China renewable analyst with Bloomberg New Energy Finance.
Luan made the remarks during a conference to launch the organization's 2019 New Energy Outlook in Beijing, which is an annual long-term economic forecast of the world's power sector.
That is an even greater achievement, if considering China's rapid electricity demand growth - the report estimated power demand in China will increase 65 percent through 2050, while Chinese GDP is likely to grow by 225 percent.
As costs of renewables continuously decline, they will challenge the current dominant position of coal in the power sector, according to Luan.
Onshore wind and photovoltaic power's costs of generation for new capacity will be more than 30 percent lower than new coal-fired power capacity in 2025, and then two to three years later, costs of new onshore wind and PV capacity will become lower than running thermal capacity, he said.
Currently, the cost of new onshore wind and PV projects in China, at the level of about $50 per megawatt-hour, is getting close to that of coal-fired power, he said.
Luan estimated that there will likely be no new coal-fired power projects in China from 2025, and coal-fired power generation will fall from 2027. By 2050, coal-fired power will take up about 15 percent of total power generation, he said.
He also estimated in 2025, the share of fossil energy in China's cumulative installed power capacity will decrease to 47 percent from the current share of 58 percent, while the share of renewables will increase to 50 percent from 39 percent.
In 2050, the share of fossil energy among cumulative installed power capacity is expected to drop to 23 percent, while the cumulative installed power capacity of renewables will surge to 67 percent, he said.
Wind and PV will take up 47 percent of total power generation in 2050, and the share for all renewables will be as high as 61 percent, while fossil energy will contribute only about 25 percent of total power generation, Luan said.
West China, with wide application of ultrahigh-voltage electricity transmission and increase in wind and PV power generation, is set to export 23 percent of its total power generation to other regions, becoming the top power export region in China, said Luan.
He said electricity vehicles and air-conditioners are the two sectors that will see remarkable growth in China's overall power demand.
He said about 10.4 percent of gross electricity demand will come from electric vehicles in 2050, while air-conditioners' share in gross electricity demand will reach 12.4 percent then.
Li Junfeng, president of the Chinese Renewable Energy Industries Association, said renewable energy is expected to meet most of the energy demand in China, as China keeps its commitment on carbon emission reductions.
Installed power capacity of renewables in China totaled 728.96 gigawatts by the end of 2018, accounting for 38.4 percent of the total, and registering a year-on-year growth of 11.7 percent, according to the China Renewable Energy Development Report 2018.