Hainan to promote market vitality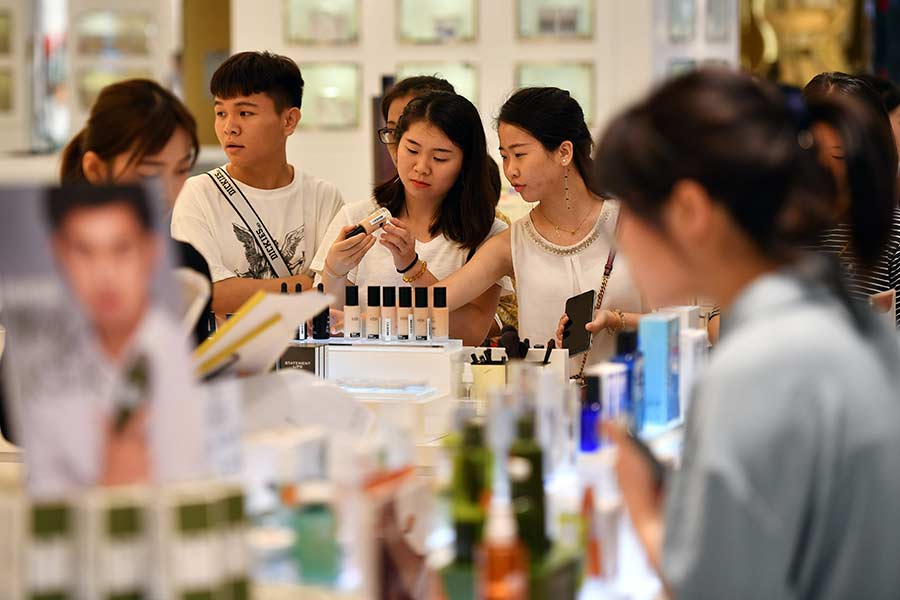 Rollout to help in industrial upgrade and institutional innovation efforts in province, say top authorities
Hainan, China's southernmost province, will pilot intensified implementation of the competition policy in its key business sectors, in a bid to promote institutional innovation and industrial upgrading, according to the provincial authorities.
The move follows the establishment of the China (Hainan) Pilot Free Trade Zone, the country's newest yet largest FTZ, covering 35,400 square kilometers and 32 times the size of Hong Kong, to intensify competition policy implementation on a pilot basis in Hainan, the first province agreed by the central authorities to conduct the practice province-wide, said officials with the Hainan Provincial Administration for Market Regulation.
The plan for the pilot program proposed that by 2020, Hainan FTZ should have preliminarily established the competition system, the policy system and organizational guarantee system; regulations and practices that hinder fair competition in Hainan's 12 key industries should be thoroughly cleaned up and abolished. It noted that local administrative monopoly should be effectively curbed, and social awareness of competition culture be fostered.
The plan also proposed a long term target which, by 2035, will help make Hainan free trade port with Chinese characteristics a new global highland of fair competition.
"Hainan is making full preparation for the establishment of a fairness review and anti-monopoly commission and a special advisory group to investigate and evaluate the overall market competition situation, issue assessment reports and coordinate important issues of anti-monopoly law enforcement and the implementation of competition policy in Hainan FTZ," said Yan Li, head of the antitrust bureau under the Hainan provincial administration for market regulation.
She said, in line with the spirit of the central authorities in supporting Hainan FTZ, Hainan has selected key areas such as the seed industry, medical services, education, tourism and finance to pilot intensified implementation of competition policy to encourage institutional innovation and upgrading of its industries.
"There are still problems such as monopoly agreements, administrative monopoly and abuse of dominant market position that have excluded or restricted business competition in Hainan. It is therefore of crucial importance for Hainan to intensify the role of competition policy to accelerate the construction of Hainan Free Trade Zone and Free Trade Port with Chinese characteristics," said Yan.
Monopoly of local farm produce, tropical fruits and vegetables, for instance, has often led to abnormal prices that were even higher than those that were sold in other regions on the Chinese mainland and caused consumer complaints, according to reports from local media.
"Competition is the soul of market mechanism. Implementing competition policy in China's FTZs will promote institutional innovation, enhance their development and explore effective ways to strengthen the fundamental roles of competition policy," said Gan Lin, vice-minister of the State Administration for Market Regulation and commissioner and secretary-general of the Anti-Monopoly Commission of the State Council, China's Cabinet.
She said more than 130 countries and regions have established competition policies, especially Hong Kong Special Administrative Region, Singapore and other internationally renowned free trade ports that are well known for their complete competition policies and systems.
Yan, head of the local antitrust bureau, said the State plan for Hainan made it clear that industrial policies that used to stress differentiation, selectivity will be switched to inclusiveness and functionality, and the remaining preferential policies will be kept transparent, so as to create a fair market environment for both domestic and foreign investment, State-owned and private enterprises, no matter big or small.
"Hainan is taking a series of measures to build the review and third-party evaluation system and mechanism for intensified implementation of competition policy, including a coordination mechanism between competition policy and industrial policy, preliminary study and research for drafting the measures for anti-monopoly work in the Hainan FTZ and revising the regulations on anti-unfair competition in Hainan," said Yan.
She said Hainan will make greater efforts in cracking down on monopoly, misleading and fake commercial promotion, commercial bribery in daily livelihood sectors such as public utilities, raw materials, building materials, daily consumer goods, education, tourism, medicine and e-commerce.
"Competition is the essence of market economy, the foundation of stimulating market vitality and the motive force of expanding market opening," said Chi Fulin, president of the China (Hainan) Institute for Reform and Development.
He said it is a basic requirement and an important task of optimizing the business environment to strengthen the basic position of competition policy, give full play to the decisive role of the market in resource allocation and for local government to play a better role.