Strengthening China's App(le) economy
Share - WeChat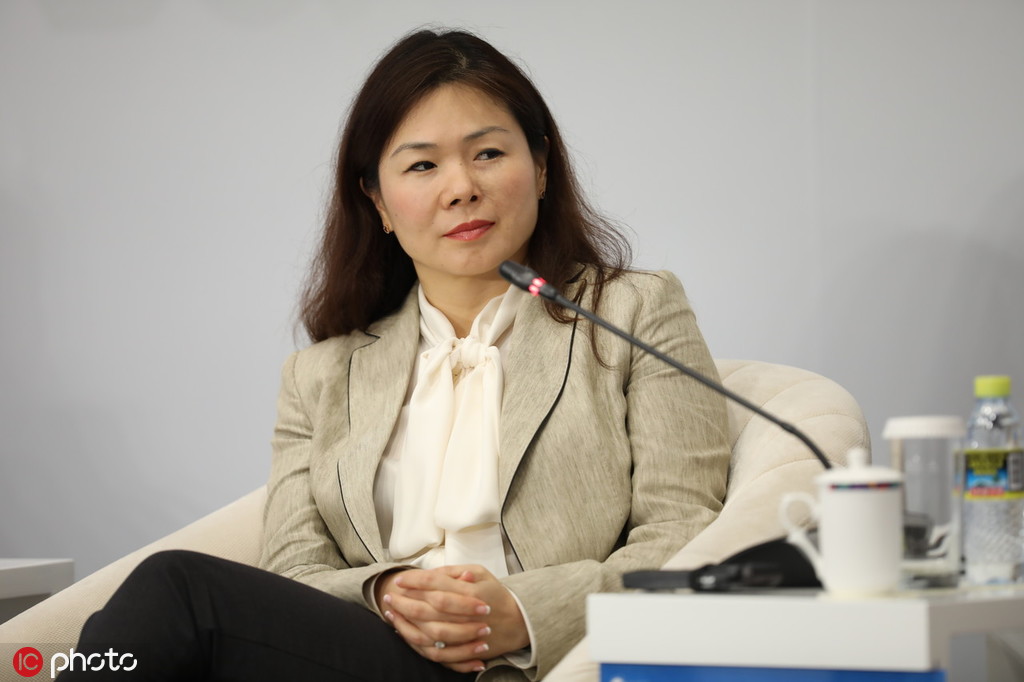 Isabel Ge Mahe sharpens US tech giant's focus on the Chinese market with new initiatives
Isabel Ge Mahe, vice-president and managing director of Apple in China, started off her career on the technical management side but graduated to business administration, leveraging both her aptitude and educational qualifications.
This helped strengthen Apple's technical as well as non-technical initiatives in China, the latest of which is going to open later this summer - the company's first design and development accelerator in China.
The center, to be based in Shanghai, will provide technical support to developers who work on Apple software. Through the facility, Apple will present lectures, seminars, experiments, speeches and training. It will also organize regular networking events to help the developer community in China and its neighborhood to improve the design, quality and performance of their products.
The upcoming Shanghai facility will be in line with Apple's recent thrust in China. Since 2017, it has set up four research and development centers in China - one each in Beijing, Shenzhen, Shanghai, and Suzhou - entailing a combined investment of 3.5 billion yuan ($509 million) and employment for over 1,000 people dedicated to innovation in hardware, software and services.
"We are continuing to grow the scale of these centers in China and welcome more talented professionals to join us," Ge said.
Since taking the helm of Apple Inc's China business two years ago, Ge has been committed to building a vibrant local ecosystem. Her impressive technical record and understanding of local culture - Ge is fluent in Chinese - come in handy.
Born in Shenyang, Liaoning, a province in Northeast China, she armed herself with higher education and corporate job experience in the United States. She got a MBA from the University of California, Berkeley and acquired master's in electrical engineering from Simon Fraser University in British Columbia.
Ge returned to China in 2017, and was impressed immediately by the nation's rapid adoption of digitalization and the innovative prowess of local software developers.
"Chinese software developers have grown to be a very admirable community of innovators and they are leading the world in terms of app downloads and revenue," she said in an interview with China Daily.
Now, over 2.2 million Chinese developers are active on Apple's App Store which was launched in 2010. Their combined global sales on the platform have exceeded 200 billion yuan.
The number continues to grow as the California-based company steps up investments in China, the world's largest consumer electronics market.
"Through Apple's App Store, Chinese developers' products have entered the global stage and many of them have become successful cases internationally," Ge said.
She cited the global success of short video-sharing app TikTok, also known as Douyin in China, and the apps developed by China's Palace Museum, as examples of China's innovative ability.
TikTok has 75 language versions and is liked by users from over 150 countries and regions, while the 11 apps developed by the Palace Museum have been downloaded by over 5 million users across the world.
"In the future, Apple and Chinese developers will enhance their cooperation in the education and technology sectors, and hopefully Apple would contribute more to China's app economy," she said.
Before coming to Shanghai, Ge led the US company's wireless technologies software engineering teams for nine years. Looking back, she admitted it is challenging to transition from a technical management job to run business in China.
"But I am very grateful to have the opportunity to return to China from the US. We have a wonderful team of around 13,000 employees in China. They offer me great help."
She has worked closely with Apple's local R&D team and carrier partners to develop new China-specific features for iPhone and iPad, including dual-SIM cards function, QR code support and short messaging service fraud prevention. Apple has also enabled the use of a phone number as an Apple ID.
"We want to offer better localized services. That is what I have been constantly pushing forward and what I like most," Ge said.
She also hailed the smooth progress of the construction of Apple's first China data center in Guiyang, Guizhou province, adding that the company had received tremendous support from the local government.
"Apple's recent moves demonstrate it no longer views China as a mere market but as an indispensable part of the company's efforts in innovation," said Xiang Ligang, director-general of the Information Consumption Alliance, a telecom industry association.
That is key to ensuring competence when it is locked in fierce competition with players such as Huawei Technologies Co in China as well as outside, Xiang said.
A mother of four, Ge said one of the keys to work-life balance is to "cherish every moment spent together and give the kids all of your focus while staying together".
The company is working to help more rural students in China access digital technologies. Last year, Apple said it would donate 25 million yuan to the China Development Research Foundation as part of its efforts to help students in the nation's less-developed areas.
"Everyone can learn computer programing. We hope Apple's technology can be used to help more students catch the trend of digitalization," Ge said.