NDB to enhance Shanghai's role as financial center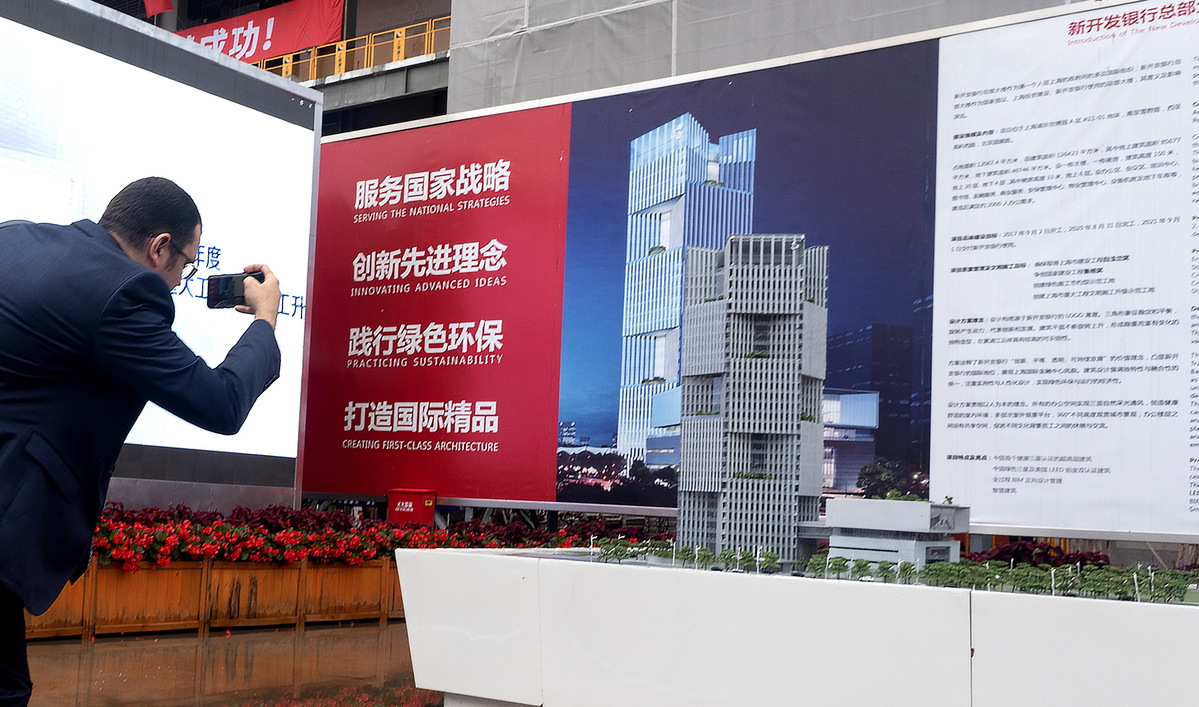 The New Development Bank, which is the first international financial institution to set up its global headquarters in Shanghai, had its structure ceiling ceremony on Wednesday, further helping the city to build itself into an international financial center.
The building of the NDB headquarters started in early September 2017 and is expected to be completed in September 2021. Covering a total construction area of 126,000 square meters in the eastern part of Shanghai, the 150-meter-tall building will be able to accommodate 2,000 employees when put into full use.
Ma Chunlei, director of Shanghai Municipal Development and Reform Commission, who is also in charge of the NDB building's construction, said that up to 60 percent of the electrical and mechanical equipment, as well as 80 percent of the curtain wall system, will be completed by the end of this year.
The municipal government of Shanghai is responsible for financing the NDB building's construction work.
The BRICS countries - Brazil, Russia, India, China and South Africa - signed an agreement in July 2014 to set up the NDB. The bank went into full operation in February 2016. The initial capital comes at $10 billion, with each member country holding a 20 percent share in the bank.
Chen Yin, executive vice-mayor of Shanghai, said that the deepened cooperation with the NDB will help Shanghai grow into an international financial center. By working closely with the BRICS countries and other developing countries, the city will improve and perfect its international currency system, making a greater contribution to the world's sustained development.
According to NDB President K.V. Kamath, the bank has attracted 150 staff from all BRICS countries. The board of the NDB has so far approved 37 projects in all five member countries aggregating about $10 billion, covering industries such as energy, transportation, infrastructure and environmental protection.
In addition, the NDB has raised 6 billion yuan ($873 million) from the interbank bond market in China. It is now also making renminbi loans to its clients in China. This will be replicated in other member countries as the NDB goes further down the road of local currency lending, said Kamath.
As the NDB has received AA+ ratings from international credit ratings agencies, it enables the bank to mobilize financing from global and domestic capital markets at competitive rates, he added.
During the Lujiazui Forum held in mid-June in Shanghai, Kamath said that Shanghai should take the chance of working with global financial institutions such as the NDB to build itself into a world financial center and the process will be much easier, thanks to the use of technology. By providing financial services to BRICS countries in renminbi, the NDB will also facilitate the internationalization of the renminbi, which is essential to Shanghai's role as a world financial hub.