The Sun King, gender benders and feathers
Share - WeChat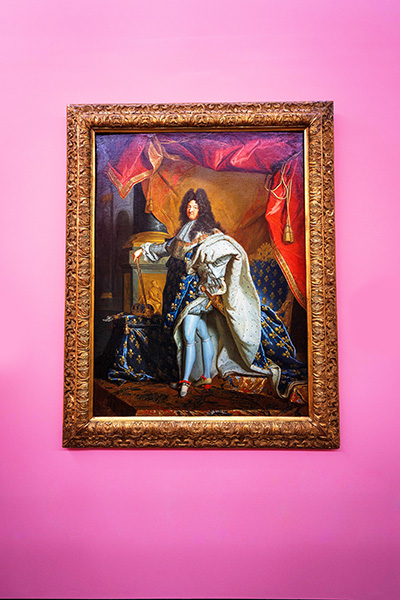 On view is the best-known Louis XIV portrait, executed by the French baroque painter Hyacinth Rigaud (1659-1743).
While the sizable wig and the voluminous velvet cape all shout camp, equally unignorable are his white leather shoes, with square toes and scarlet soles. The shoes, as well as the pair of long legs extending from them, were a nod to the king's training in ballet, a stylized form of art that Sontag believes is saturated camp, just like opera.
"That way, the way of camp, is not in terms of beauty, but in terms of the degree of artifice, of stylization," Sontag wrote.
It is not surprising to know that the king's close circle is populated with men who camped indefatigably. (The word "camp" derives from the French se camper, meaning to flaunt or to pose.)
One of them is the king's brother Philippe I (1640-1701), also known as "Monsieur". Raised never to become a threat to his brother, Philippe, who was no less a dancer than the king, was encouraged as a young man to wear women's clothes by their mother, who was believed to have nicknamed him "my little girl".
Another is the less noble yet more notable Chevalier d'Eon (1728-1810), a French diplomat and spy who appeared publicly as a man for the first 49 years of his life and then as a woman for the remaining 33 years of it. While he was in London on exile, a betting pool was started on the London Stock Exchange about his true sex. Later, when he was finally allowed to return to France, King Louis XVI, whose father d'Eon had famously attempted to blackmail with the secret diplomatic letters in his hands, offered him a sum that included funds for a new wardrobe of women's clothes.