The Sun King, gender benders and feathers
Share - WeChat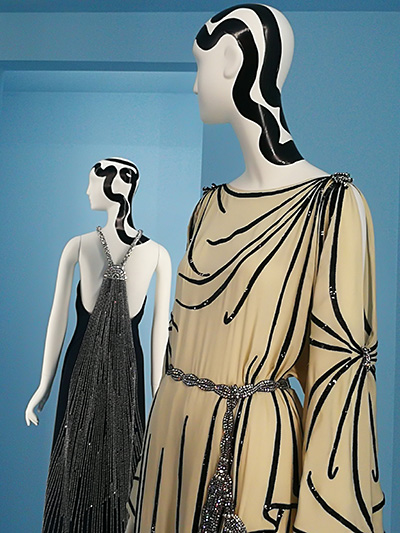 "One must distinguish between naive and deliberate camp. Pure camp is always naive. Camp which knows itself to be camp ("camping") is usually less satisfying," Sontag wrote. In other words, while the alltoo-serious endeavor of Balenciaga to create the divine dress for a high-society lady resulted in a piece of genuine, naive camp, Mugler's deliciously over-the-top sartorial rendition of an open oyster shell, from which the female body would arise, constitutes calculated camp.
In the exhibition, the Mugler piece, featuring a giant teardrop faux pearl where the navel is, is budding exuberantly right beside an equally stunning but much more demure creation by Balenciaga, whereby the ruffled silk lining is revealed by the flaring bottom of the dress.
Viewed together, it seems that Mugler has taken the shape of the Balenciaga dress and turned it upside down. This idea of reversal was embraced by the Dutch design duo Viktor Horsting and Rolf Snoeren, known for mounting theatrical and performative runway shows with avant-garde fashions. Their 2006 creation - a silk taffeta dress displayed alongside a similarly colored tulle confection from Lanvin's 1956 collection - has sought to play up the concept instead of mitigating it.