Beyond going global
Share - WeChat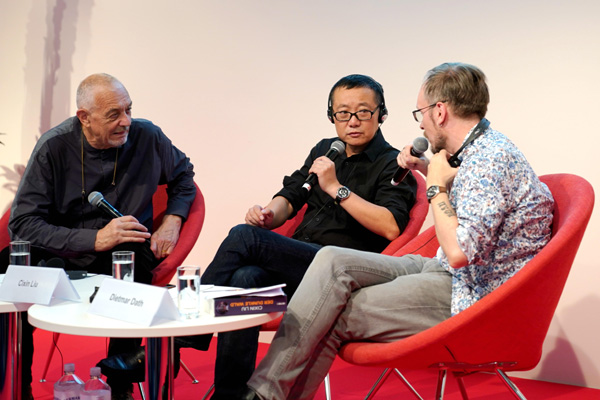 Chinese publishing industry seeks bigger impact abroad, Mei Jia reports.
An episode of Topics in Focus was aired on China Central Television on June 7, prompting Chinese publishers to talk about how their industry could influence global readers.
Among the country's most successful authors with an international appeal is Liu Cixin. The TV program discussed data from China Educational Publications Import and Export Co, the science-fiction writer's representative agency that sells his Three-Body trilogy abroad. According to the data, by the end of 2018, 1.48 million copies of Liu's books had been sold worldwide in 25 languages, including 1 million in English and 200,000 in German.
The Heyne publishing house released the third book's German version in April.
On a recent visit to Beijing to attend the Storydrive China talks, the book's German editor Sebastian Pirling, himself a science-fiction writer, said he had not expected Liu's books to be so successful outside China. Sinologists Martina Hasse and Karin Betz were also part of the translation team.
Pirling says besides the contribution of foreign translators and Chinese authors' originality, their success in the domestic market, among other factors, are drawing readers from his country.
"I find his (Liu's) writing, his mix of high-concept literary metaphors and unabashedly straight forward science-fiction, absolutely intriguing. I have not read something like this in years," Pirling says.
Liu has opened the door for Chinese science-fiction to travel abroad, and younger authors such as Chen Qiufan, Hao Jingfang, Xia Jia, Baoshu are expected to take the genre forward, he adds.
The book, Death Notice, by Zhou Haohui, also represented by China Educational Publications Import and Export Co, was named among "100 crime novels and thrillers to love since 1945" by the Sunday Times in May.
Besides science-fiction, the Chinese publishing group under which China Educational Publications Import and Export Co is placed, has been offering 45 kinds of language-learning books in 120 countries, earning the group 1.1 billion yuan ($159 million) since 2015.
"We're not just 'going abroad', we're also trying to 'walk inside' to provide products that are localized and tailor-made," Su Yuheng, director of the group says.
The group's success has largely come from its careful selection of translators, topic-pitching with experts, presence on Western social media and active participation in world book fairs.
Attending book fairs, writers' forums and literary festivals are also ways that Tie Ning, chairperson of China Writers Association, says will aid Chinese writers' image-building abroad.
During the Second China-Portugal Literature Forum in Beijing on Wednesday, Tie Ning said such forums, as well as mutual-translation projects and writer-in-residence programs have helped.
She says there are 11,700 members in the association, which on average publishes 5,000 novels in the country annually.
Most Popular