The shared vision of tolerance for Asian civilizations
Share - WeChat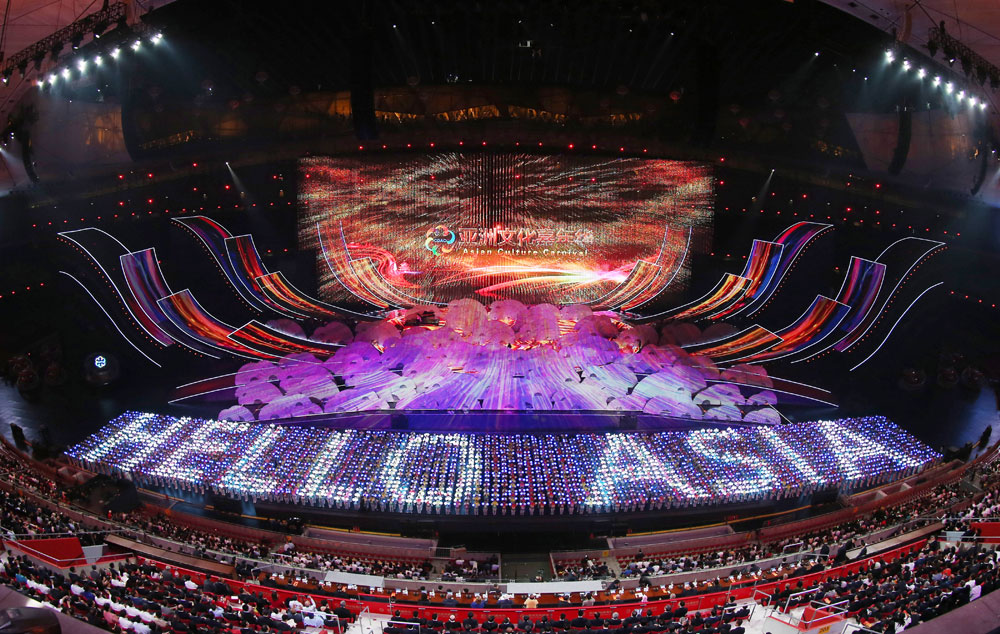 Last month, I attended the Conference on Dialogue of Asian Civilizations, with an opening ceremony and six parallel subforums around the theme of Asian civilization exchanges and mutual understanding. Representatives from 47 Asian and other invited nations participated in the event, which seeks to promote intercultural dialogues in view of building an "Asian community of shared futures".
With the United Arab Emirates' highly valued relationship with China, the UAE embassy to China made sure to be strongly involved in all elements. I attended an opening ceremony for The Splendor of Asia - An Exhibition of Asian Civilizations, in which UAE participation included a series of cultural and heritage pieces. Through stories of civilizations and cultural heritage, this exhibition built an important platform for Asian countries to understand each other.
I was also delighted to join the vibrant and colorful Asian Cultural Carnival at the Birds Nest Stadium, part of the CDAC. Here the UAE proudly represented our rich civilization, with a variety of people from a diverse range of more than 200 nations hailing from every corner of the globe.
This fine series of CDAC events were on a grand scale in terms of ambition, and this dialogue was like a wheel of the Belt and Road Initiative, bringing together the rich variety of nations across the vast Asian continent. President Xi Jinping's opening speech addressed a number of areas that in many ways aligned with our own Year of Tolerance.
First, the president's hopes are that Asian people achieve peace and stability all across the continent. The wish is that all the people of Asia should live and work in contentment and security, free from fear. He went on to say that all nations will respect and trust each other, live in harmony, and interact with each other in a manner that transcends national boundaries, time and space as well as differences between civilizations. Xi Jinping also added that we should work together to safeguard peace, something more precious than gold.
He went on to say that Asian people hope that all countries will reject self-exclusion, embrace integration, uphold openness and work to promote policy, infrastructure, trade, finance and people-to-people connectivity. This way we can jointly foster a community with a shared future for both Asians and all of humanity.
There are clear parallels here with the Year of Tolerance which also seeks to promote peace and consider humanity. The UAE has made real headway in paving the way toward peace and understanding. There are initiatives carried out in the UAE promoting understanding and peace, both within our nation and further afield, built around seven pillars:
1.Tolerance in community
The first pillar aims to promote the values of tolerance within family members, and to consolidate them among different cultures, activating the role of UAE community centers across the country to promote tolerant, cohesive societies.
2.Tolerance in education
This pillar's objective is to solidify teachings behind the values of tolerance within the education systems - across schools and universities - within the country.
3.Tolerance at the workplace
The third pillar's focus is on creating a safe, tolerant and cohesive workplace across public and private sector institutions and organizations, via educational programs highlighting equal opportunities for all.
4.Tolerance and culture
The promotion of cultural tolerance is the main objective, via the launch of various events and programs celebrating more than 200 nationalities residing in the country, and enhancing interactions between them through the arts and culture sector.
5.UAE model of tolerance
This pillar seeks to solidify the UAE as the global capital for tolerance, via a series of initiatives and projects specialized in tolerance and dialogue between various cultures and civilizations.
6.Tolerance in legislation
The sixth pillar will see the Supreme National Committee for Tolerance work on developing policy, legislation and executive regulations guaranteeing the sustainability of values and lessons behind tolerance, dialogue and cohesion among cultures, including a law on multiculturalism.
7.Tolerance in the media
The media is one of the most important tools to disseminate tolerance and coexistence values via targeted media campaigns and projects, as well as promoting the UAE model of tolerance across media channels and social networking sites.
President Xi Jinping in his key opening speech also outlined a practical application for a collective way forward:
1.We need to respect each other and treat each other as equals.
2.We need to uphold the beauty of each civilization, and the diversity of civilizations around the world.
3.We need to stay open and inclusive and draw on each other's strength.
4.We need to advance with the times and explore new ground in development.
In much the same way, His Highness Sheikh Khalifa bin Zayed Al Nahyan, president of the UAE, upon proclamation of the year 2019 as the Year of Tolerance in the UAE, emphasized tolerance as a universal concept aimed at entrenching the values of tolerance, dialogue, coexistence and openness to different cultures. This grand vision aligns well with President Xi Jinping's own views on cooperation and civilization.
Our two countries often surprisingly have parallel thinking around the same issues, which is always of great interest to me. It is clear that our ties run deep, bound as we are by ancient connections of wisdom and thinking, as was so clearly shown in the many events around CDAC.
What President Xi Jinping outlined here was inspiring and communicated something deep about the very nature of our civilization. It is certainly food for thought and something the UAE can consider for the World Tolerance Summit, which will be held in Dubai from Nov 14 to 16.
The author is ambassador of the United Arab Emirates to China.
The opinions expressed here are those of the writer and do not necessarily represent the views of China Daily and China Daily website.
Most Viewed in 24 Hours
China Views