Whole new ball game for 'Itchy'
Share - WeChat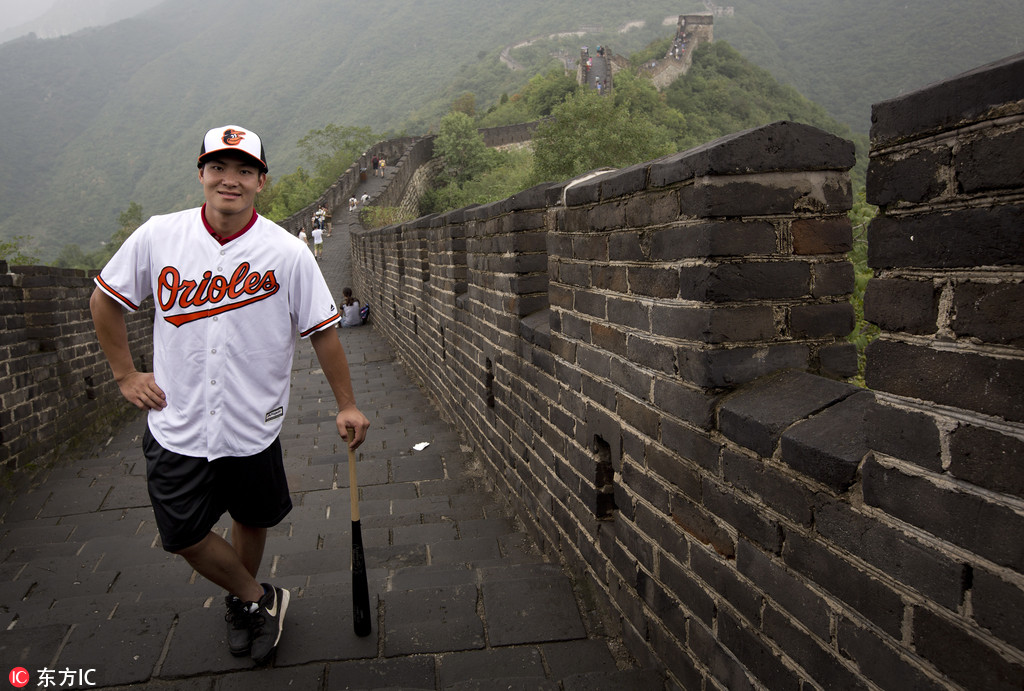 Teenager Xu hopes to reignite career in Japanese league
If you can't beat'em, join 'em.
That's a strategy that "Itchy" Xu Guiyuan hopes will prolong his dream of playing professional baseball.
After being released by MLB's Baltimore Orioles last month, on Monday Xu signed with the Kochi Fighting Dogs of Japan's Shikoku Island League Plus at the MLB Development Center in Nanjing.
"Playing in the Shikoku League will be huge in terms of developing my career," said Xu. "I will try my best to quickly adapt to my new team and new league."
The 19-year-old left-handed outfielder/first baseman inked a minor league deal with the Orioles in July 2015, becoming the first graduate of MLB's three development centers in China to sign a pro contract with a US team.
Xu played two seasons in the Florida-based rookie Gulf Coast League and earned a promotion to Aberdeen in the Class A New York-Penn league last summer. He's a gifted fielder with an outstanding throwing arm, but never found his batting rhythm.
In 174 plate appearances in North America, Xu hit just .207, with 51 strikeouts and 21 RBI.
"I have experienced two years of American training, competition and culture, so the chance to play in Japan will be something totally new for me," said Xu, who idolizes retired future Hall of Famer Ichiro Suzuki, who is now a coach with the Seattle Mariners.
"After learning the American way, I think Japanese baseball can provide great benefits for me. Ichiro is my idol, and playing in his homeland only doubles my inspiration."
Established in 2005, the Fighting Dogs play home games at Kochi Stadium in Kochi City of Kochi Prefecture.
Hiroaki Sakaguchi, board chairman of the Shikoku Island League Plus, said it wasn't long after the league's first contact with Xu that both sides knew he would be a good fit.
"From a technical point of view, Japanese baseball is more mechanical than what he is used to. Pitchers throw everything from fastballs and sliders to changeups, which translates into more hits and more work for the outfielders.
"But we know Xu is a good player. He has succeeded at different levels, and we believe he will adapt to our league very quickly."
Sakaguchi said his league is endeavoring to forge a closer relationship with MLB China's development centers and there will be more scouting of DC graduates with the aim of bringing them to Japan.
"This is merely the start. We're committed to building a closer relationship with Chinese baseball. It's more about building an Asian baseball scene and building strength relating to the baseball community in the region.
"This is a great start for building that relationship, and we hope that eventually it will translate into more Chinese players coming into the Shikoku League."
Total development
China's scarcity of baseball fields and relative indifference to the sport make Xu something of an underdog, but Rick Dell, general manager of baseball development for MLB Asia Pacific, thinks that situation will soon change.
"Over the past decade, more and more facilities have been built and more and more Chinese are playing the game," said Dell.
The Milwaukee Brewers signed three Chinese players earlier this year, bringing MLB's total from the Chinese mainland to seven. All are graduates of MLB China's development centers.
MLB established its first DC at Dongbeitang Middle School in Wuxi, Jiangsu province, in 2009. Two more have been built in Changzhou and Nanjing.
The three centers are home for about 100 student athletes aged 12-19 with demonstrated baseball talent.
The MLB development program has proved successful on and off the field, with six grads signed to MLB minor league contracts, 22 signed with teams in the Chinese Baseball League and six being called up to the national team.
The program also offers accelerated high school education and boasts 37 individuals who have reached graduate school at Chinese universities and eight who are now attending US universities.
"The MLB China development centers are not simply a place to manufacture baseball players but education-based facilities dedicated to the total development of student athletes in a family environment," said Dell.
MLB's PlayBall! youth league, inaugurated in 2008 and now into its 12th season, is the highest level youth baseball league in the country. The program has reached nearly 200 elementary schools nationwide, and more than 1.2 million students have been exposed to the sport through the program.
"The thing I am most proud of is diversity. We have grown from all four corners of China and have recruited what we think are the best students athletes from Qinghai, Beijing, Guangzhou, Shanghai, Shenzhen... all over the country," said Dell.
"We have become the focal point of baseball education in Asia, with 22 countries and Olympic representatives visiting our development centers to learn to play and fall in love with the game.
"We will continue to do what we've been doing, and continue to do our best to grow baseball all over Asia."