China steps up to the plate
MLB, Beijing Enterprises team up to meet game's growing popularity here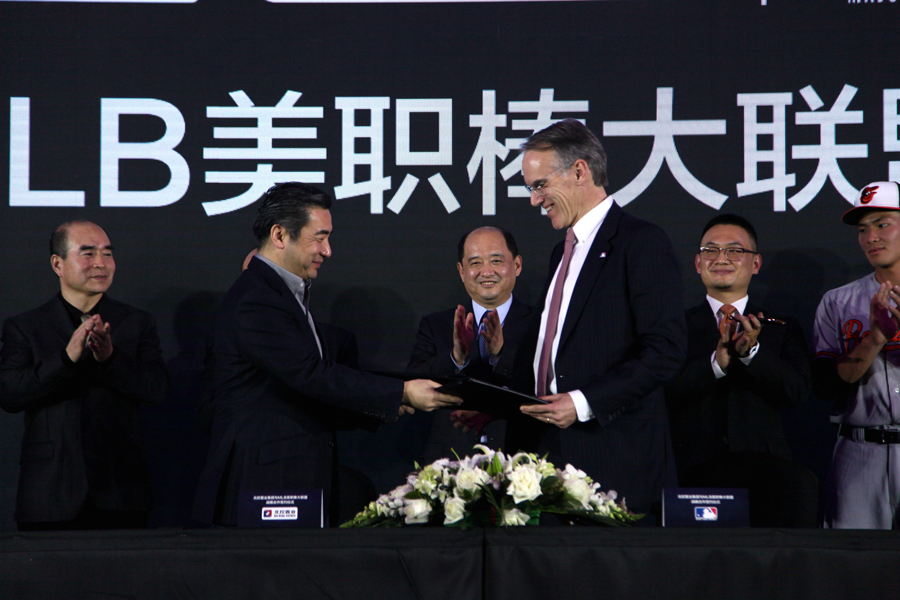 As home runs go, this one was pretty epic. Catching a morning flight from New York, the vice president of Major League Baseball's Asia Pacific operation touched base in Beijing in the afternoon before dashing back to the US that evening.
The man in question, Jim Small, described his journey as tiring but more than worthwhile.
Small was in the Chinese capital on Friday as MLB and Beijing Enterprises Real Estate Group Limited unveiled a major new 10-year partnership to develop the game and meet the growing demand for all things baseball here.
"We are humbled and we are flattered to join forces with one of China's most forward-thinking, innovative and successful companies," said Small.
"Over the coming years, we will work with Beijing Enterprises to meet the ever-increasing demand of Chinese parents for places for their children to play baseball.
"And we will work together to improve China's top baseball players and to play our part in contributing to Chinese society through corporate social-responsibility projects."
Baseball is now played in over 80 colleges and universities in China - double the number from six years ago. In the past 12 months, more than 40 baseball facilities have been built by local governments and private concerns, while around one billion fans now watch MLB games and TV shows on national network China Education Television thanks to a deal signed earlier this year.
The sport's profile has also been boosted by the staggering success of baseball-themed TV series Boyhood. Featuring popular boyband TFBoys, the kids' drama was the top-rated television show in its primetime slot and accumulated over 5 billion online views.
The net result is more and more Chinese kids want to pick up a bat and step up to the plate.
The deal announced on Friday is designed to meet that demand by building almost two dozen MLB-branded baseball facilities nationwide.
Up to 20 of the new projects, called MLB-BEREGL Baseball Development Centers, will provide world-class facilities for talented Chinese student athletes from grades seven to 12, combining a mainstream school curriculum with baseball skills development.
MLB will consult on facility design, field management and operations while Beijing Enterprises is well equipped to deliver its side of the deal, having constructed venues for the 2022 Beijing Winter Olympics.
"We are thrilled to have a strategic alliance with Major League Baseball that seeks to enhance the playing level of professional baseball teams in China," said Beijing Enterprises Real Estate chairman Qian Xu.
"This new relationship with MLB will seek to provide Chinese youth with new facilities to participate in this great game while advancing their education and learning valuable life lessons."
MLB currently maintains three development centers in China, all in Jiangsu province (Wuxi, Changzhou, and Nanjing), which have produced three graduates who have signed for MLB clubs - "Itchy" Xu Guiyan (Baltimore Orioles), Gong Haicheng (Pittsburgh Pirates), and Justin Qiangbarenzeng (Boston Red Sox).
In the last four years, 36 players have graduated and advanced to play collegiate baseball in the US, China, and South Korea, while Chinese players have been plying their trade in professional leagues in Australia, Korea and the United States in recent years.
Eleven alumni are members of the China national team and 12 are playing professionally in the China Baseball League.
MLB will continue to send professional players and coaches here to teach teams at all levels of Chinese baseball.
Past visiting instructors from MLB have included big names such as Prince Fielder, Curtis Granderson, Mark Melancon, Jeremy Guthrie and Jim Lefebvre.
In addition, both organizations will work together to market the sport in China.
Small said he came here 20 years ago to try to answer a very simple question: Could China - a growing world leader - become a world baseball leader?
On Friday, he wasn't wondering about the answer anymore.
"With the current baseball boom and with partners like the CBA (Chinese Baseball Association) and Beijing Enterprises, that question has been answered," Small enthused.
"Just like it has in so many other areas, China is on its way to becoming a world leader in the great game of baseball."
yangxinwei@chinadaily.com.cn