First day of curling World Cup sees Chinese ladies win on home ice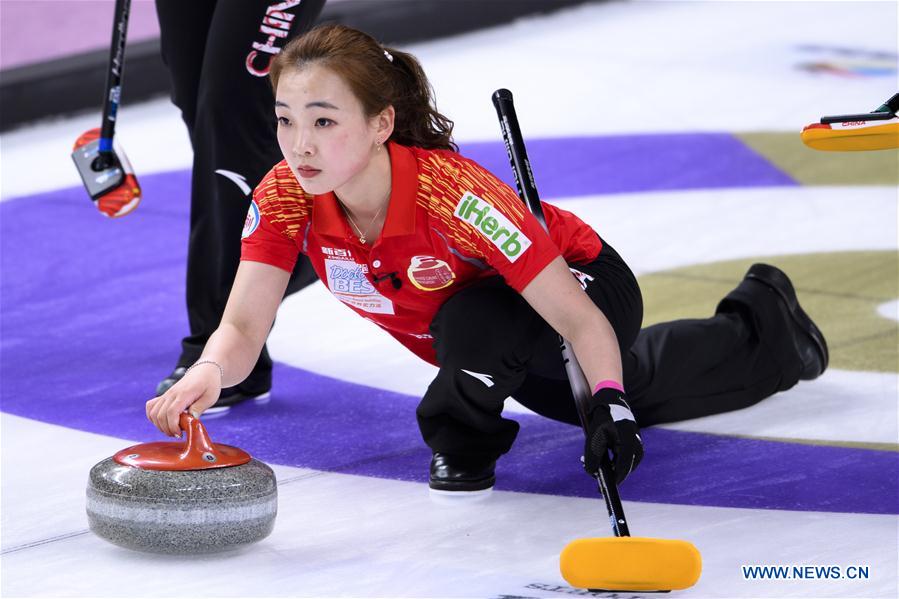 BEIJING - The Chinese women beat the United States 9-2 to reel off the 2019 curling World Cup at the Beijing 2022 Ice Hockey arena on Wednesday.
Canada, with skip Jennifer Jones making her curling World Cup debut, proved to be a very tough test for Japan (Satsuki Fujisawa), clobbering them 10-1, with the Japanese team retiring after the seventh end.
Jones shot a disciplined game to keep the Japanese side off balance for most of the game. She finished out a strong fourth end with a 'by the book' shot that hit the button perfectly, keeping Japan from scoring a crucial set of points.
At the conclusion of the 6th end, Jones threw a splendid guard to encircle the Japanese attempt and leave them helpless in any attempts to turn the tide.
Home fans here got a great show as China, led by team skip Jiang Yilun, took on the United States on sheet B.
Team China put up a very strong and consistent performance, storming to a 6-1 lead by the fourth end, with skillful placement and a coordinated assault and strong guarding keeping the American side, headed by skip Nina Roth, from placing their stones and making crucial shots.
China triumphed 9-2, with the American team retiring after the 7th end.
"The four points before the fourth-end break proved crucial. We are aware that Team United States is a strong team, but we focus on our own performance," said Jiang Yilun after the win.
There were wins elsewhere for South Korea over Sweden, and Switzerland over Russia in other women's games.
Russian duo Maria Komarova and Daniil Goriachev produced an 8-7 to stun Jenny Perret and Martin Rios of Switzerland after the 7-7 draw. United States' Sarah Anderson and Korey Dropkin defeated another Switerland pair Michele Jaeggi and Sven Michel 8-5.
Canada's Laura Walker and Kirk Muyres won over China's Cao Chang and Yuan Mingjie 7-3, while Norway's Kristin Skaslien and Magnus Nedregotten won 6-5 over Kadriana Sahaidak and Colton Lott of Canada.
In men's games, China's Team Zou Qiang beat reigning world champions Team Niklas Edin of Sweden 7-6. Yannick Schwaller's men of Switzerland beat Canada's Kevin Koe 6-2, while United States' Team John Shuster defeated Team Matt Dunstone of Canada in the battle of North America. Team Ross Paterson of Scotland won over Team Thomas Ulsrud of Norway.
None of the teams that won big in the first session can rest easy, however. The round robin format means that teams can and do ease into form over the course of the competition, and tomorrow's matchups will provide different challenges entirely for each team.