Nyingchi a nice way to get introduced to Tibet
Share - WeChat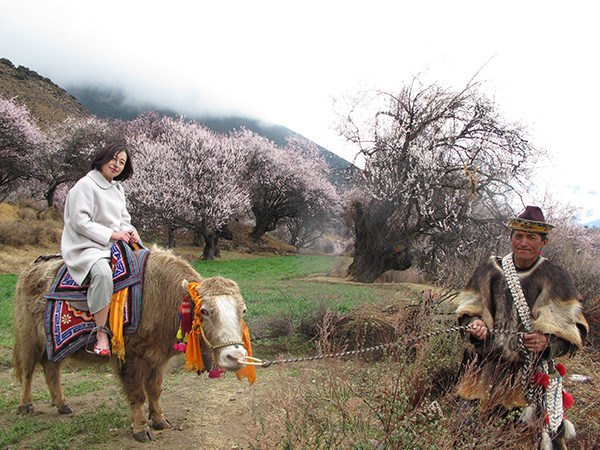 My altitude sickness mysteriously disappeared when I arrived in the city of Nyingchi, Southwest China's Tibet autonomous region, after a six-hour road journey from Lhasa, the region's capital.
Compared with most areas in Tibet, Nyingchi is at a lower altitude, has higher humidity and a milder climate, which is believed to be an ideal first stop to explore Tibet - "the roof of the world", with an average altitude of more than 4,000 meters, where oxygen content is only 60 percent of that in the plains.
The average altitude of Nyingchi is about 3,000 meters.
The Nyangchu River and the Yarlung Zangbo River run through the city, giving it a moist weather and fatty fish.
Data from the local government shows the forest coverage is over 53.6 percent, forming a lush and green landscape that is both good for the eyes and the lungs.
I was heading for the Nyingchi Peach Flower Tourism and Culture Festival, an annual event held from late March to April, a good time to visit the "pink ocean" in the deep mountains.
The ride along the National Highway 318 was amazing.
The highway, which connects Shigatse in Tibet with Shanghai on the east coast, is described as one of the most beautiful and dangerous ones in the world.
On the way, I experienced the baking sun, rain and snow on the same day while riding in the wilderness. But what attracted me the most were the peach flower trees swirling in the breeze all over the mountains and plains, which turned the fields into a fairyland.
The trees, budding or in full blossom, were much taller and stronger than those planted in gardens or parks, showcasing the beauty of the wild, besides its confidence and vitality.
The attraction of Nyingchi is more than the peach flowers.