Veteran kebab-maker still full of passion
By Feng Zhiwei in Changsha and Zheng Caixiong in Guangzhou | China Daily | Updated: 2019-05-02 11:52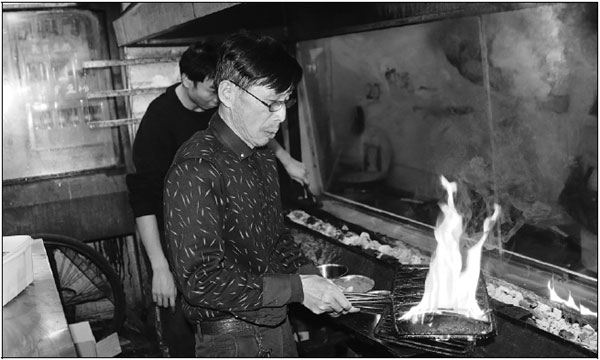 Thanks to his hard work and attitude, Hu was a millionaire in 1980s, becoming a model to emulate for his friends and relatives.
After Hu opened his first kebab store in the heart of the city's in 1990, he quickly opened three branches in Changsha in the following years.
All the four stores do brisk business, with one of them even selling more than 17,000 kebabs a day, earning 40,000 yuan daily, according to Hu.
Meanwhile, Hu is also a wholesaler of food ingredients for major hotels and restaurants in Changsha, and teaches local chefs how to make cumin beef and mutton.
After Hu became successful, he bought three motorcycles and an imported Volkswagen sedan.
But after a few years, Hu's business began to decline after he lost interest, and the business was handed over to his younger brother to operate.
Hu's stores then began to close one after another due to the lack of professional staff.
Worse was when Hu got addicted to gambling.
"I lost more than 400,000 yuan a night in a casino in Macao in 1990s," he says.
But redemption was at hand when Hu opened a new kebab store in Pozi Street, a famous local snack site in Changsha in 2007 to restart his business.
Now Hu's kebab store can earn anywhere from 200,000 to 300,000 yuan a month.
Although Hu is growing old now he is still full of passion for his kebab business. And he recently became a web celebrity after he created the first skewer bullfrog in Changsha.
Hu now has a shareholding system for his staff. And 16 of them have been given from 0.5 to 5 percent of his company's shares.
Separately, Hu's son Liu Zhijie, born in 1995, has returned to Changsha to help Hu run the kebab store.
Speaking about his role, Liu, who studied in a university in Thailand, says: "It is my family business and I hope I can continue to run it in the years ahead."