Veteran kebab-maker still full of passion
By Feng Zhiwei in Changsha and Zheng Caixiong in Guangzhou | China Daily | Updated: 2019-05-02 11:52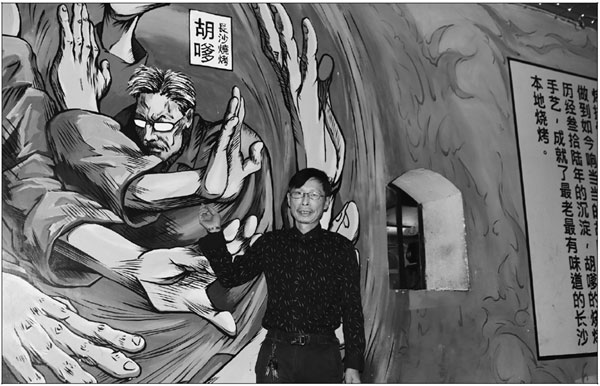 The business at Hu's shops is brisk, although his prices are usually a little bit higher than other kebab stores in the city.
And his cumin beef and cumin mutton are particularly favorites with local diners.
Many of his customers are from other parts of the country.
"So, if I stop my business a day, many of my clients, particularly those who have come from far away to enjoy my kebabs, will feel disappointed, and I really don't want to disappoint them," says Hu.
Hu started his kebab business at the end of 1970s when he failed to find a job with the local government or State-owned units that used to be regarded as "iron rice bowls", indicating a secure and lifetime job.
Hu says he then took to barbecuing and selling kebabs after learning the technique from vendors who came from the Xinjiang Uygur autonomous region.
At first, he used to barbecue and sell his kebabs along local streets, despite objections from his parents.
But as his barbecuing skills improved, and thanks his fresh and high-quality ingredients, sales of his kebabs kept increasing.
Later, in 1983, Hu rented a stall at 200 yuan a month in Changsha's Dongtang Square, a busy part of the city, to sell his kebabs. And his business has not looked back since.
"My stall, that is usually open from 3pm to 10pm, can sell between 600 and 700 yuan worth of kebabs a day and can yield a net profit of more than 10,000 yuan a month," says Hu.