Beijing shows off heritage, creativity, cultural exports
Share - WeChat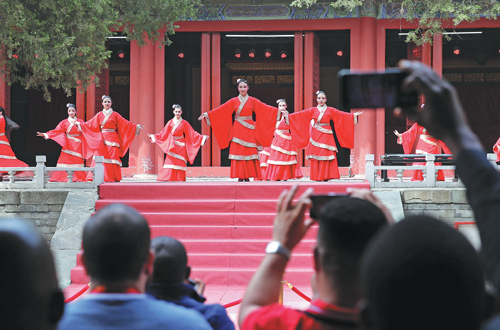 The Qing Dynasty (1644-1911) government even set up a special school to teach students from Russia.
The media delegation also watched Dacheng Etiquette. The ritual performance is the same as the ancient one, thanks to Beijing's sustained campaign for culture preservation and innovation.
When the ritual was over, they said that they appreciated the profound culture and Confucian thoughts.
Last year, the city government issued a framework plan for the protection and utilization of old factories to expand space for cultural development and the local creative industry.
Located inside the compound of the Imperial College, 77 Creative Park is an exemplary case of the drive.
The creative park, which used to be the Beijing Printing Factory, the structure of which still remains, has attracted many startup businesses engaged in the creative industry.
In the yard of 77 Creative Park, many esteemed artists and craftsmen from Beijing now demonstrate their skills in paper-cutting, lacquerware carving, seal cutting and monkey toy making to the visitors.
Some of the audience said they admired Beijing's efforts in not only protecting handicraft techniques but also bringing them closer to people's lives.
Most Popular