Brand Bollywood looks east
Share - WeChat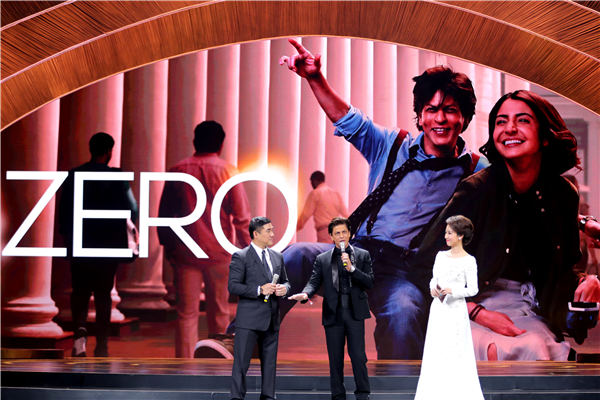 Shah Rukh Khan, one of the world's biggest movie stars, finally turns his attention to China.
On his first visit to China last week, Indian superstar Shah Rukh Khan was greeted by fans at a Beijing airport with squeals of excitement.
Khan, 53, has been described as the biggest movie star globally in Western media that cited audience numbers and income. He has ruled Bollywood for nearly 30 years. But in China many theatergoers are not familiar with his work.
His latest Hindi film, Zero, was shown at the closing ceremony of this year's Beijing International Film Festival on Saturday.
In an interview to China Daily at the Four Seasons Hotel in Beijing on Friday, Khan said he didn't become popular abroad through a concerted effort.
"I happened during the time of liberalization (India's economic reforms in the 1990s), a lot of people were traveling, so I guess there was a sense of attachment to me and my films," he said of Western countries, where his films sold, initially to the Indian diaspora and then the local audience.
"Hopefully I will also make a film one day which people will like in China," he said when asked how he would increase his presence in the country.
"The essence is that - can you transcend boundaries and language, perhaps a bit of tradition also, and produce something for people that they enjoy? So when that happens it will happen. Right now it's just nice to be here."
China, the world's second-largest movie market after North America, has witnessed visits by many big names in Hollywood over the past few years.
"I would have loved to come here earlier," Khan said, adding that a factor for the delay was his hectic shooting schedule.