Graffiti works win a wider audience
Share - WeChat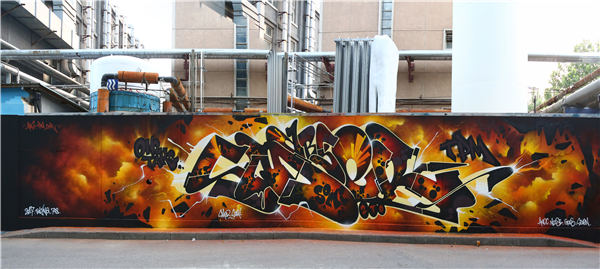 Chinese artists pursue professional careers, looking to collaborate with counterparts in other countries.
People taking a stroll along-side the canal in the Yuan Dadu City Wall Ruins Park in northern Beijing may be surprised to come across graffiti written in Roman script adorning some walls.
Graffiti can also be found on walls in the city's old Shuangjing neighborhood, the Wangjing section of Jingmi Road, the 798 Art District and the downtown Gulou area.
Once an underground pursuit practiced in dark corners, this street art has become more accepted by mainstream society nationwide and is being promoted by fashion and design retailers who want to connect with the younger generation.
More Chinese artists are pursuing professional careers in graffiti and are looking to collaborate with their counterparts in other countries.
Early this month in Chongqing, Zheng Haidong, 32, - his face masked - stood atop a scissor elevator in hot weather for more than 14 hours a day holding a can of spray paint. He spent much of the time painting a tiger on a wall.
Zheng was part of a team competing in a graffiti contest. Each of the 10 teams was tasked with painting a 12-m-high, 7.5-m-long wall in the city in two days, with the winners receiving 60,000 yuan ($8,940).
"The work was very intensive," said Zheng, who is better known as "Smk" among street artists.
The theme for the second Joy In Bottle International Graffiti Competition in Chongqing from April 4 to 7 was bashi, which in the dialect of neighboring Sichuan province means a feeling of being comfortable, happy and at leisure. Zheng and other competitors had to convey that impression through their artwork.
The large amount of space given to street artists in Chongqing stands in stark contrast to Zheng's experience when he started out years ago in Ningbo, Zhejiang province.
Most Popular