Global suppliers present electrified, autonomous solutions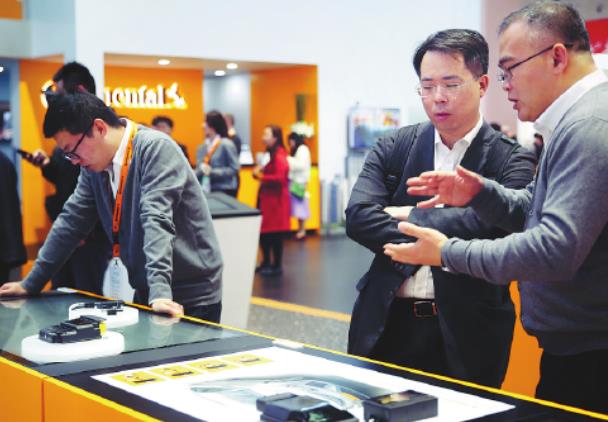 Automotive part manufacturers vie for their share as new trends gain momentum
Automotive part manufacturers are showcasing their latest electrification and autonomous driving solutions at the ongoing Shanghai auto show, as part of their efforts to tap into new growth potential in the world's largest automotive market.
One such company is Continental, which is presenting a wide range of established and production-ready systems for 48-volt hybrids, plug-in hybrids and pure electric vehicles as well as autonomous driving solutions.
"China is already the largest market for electrified vehicles, and the gap between China and Europe and especially the United States will increase in the next years," said Continental Chairman and CEO Elmar Degenhart.
"So it makes a lot of sense to heavily invest in capabilities to support our customers here in China,"
China overtook the US as the largest market for new energy vehicles in 2015.
Last year, total sales of electric vehicles and plug-in hybrids in the country reached 1.2 million, and the figure is expected to reach 1.6 million this year, according to the China Association of Automobile Manufacturers.
Webasto, a German manufacturer of custom sunroofs, and heating and cooling systems as its core business, is charging into the field of e-mobility as well.
Among its exhibits at the auto show are products ranging from a high-voltage battery system applicable in several vehicle segments, to a high-voltage heater for hybrids and electric vehicles.
The heater creates precise onboard temperatures and at the same time ensures the battery remains within an optimum temperature range and does not get too cold - a major cause of reduced ranges for electric vehicles in winter.
Webasto said it will open a new plant for sunroofs and battery systems in China, its largest market, later this year.
French automotive supplier Valeo has brought a low-voltage (48-volt), all-electric urban vehicle prototype, as one example of its electrification solutions for different mobility needs and uses.
The company has been a leader in terms of the 48-volt hybrid systems globally. It also expects huge growth potential in China, which is rolling out tough emissions standards.
Gu Jianmin, chief technology officer of Valeo China, said vehicles sporting the company's mild-hybrid system would total four to five million units in China by 2023, as the technology is one of the most convenient ways of cutting emissions in gasoline cars without major changes.
In a world first, Valeo is also showcasing a reversible charger. Codeveloped with Chinese company, XCharge, the charger makes it possible for electrified vehicles to send excess electricity back to the grid or other vehicles and electric appliances.