Eat beat
Nuo stacks up a terrific tapas treat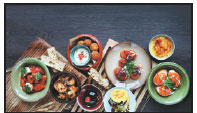 Nuo Hotel's Lobby Lounge has launched an array of classic Spanish tapas with a modern twist to complement spring nights. They range from San Sebastian Croquetas and 5J Spanish ham, to roasted bell peppers and tomato confit. The San Sebastian Croquetas come with cheese, potatoes and diced ham, and are served with homemade tartar sauce and Bayonne hamthe heart and soul of Southern France. A tea-inspired mocktail pairs well with the tapas.
No 2A, Jiangtai Road, Chaoyang district, Beijing. 010-5926-8281.
Nordic feast for afternoon tea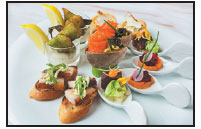 From now until the end of June, afternoon tea fans can appreciate Scandinavian style on the dining table with an afternoon tea set menu at Dining Room, presented using Georg Jensen's premium design products. There, chefs craft an afternoon tea set of six savory snacks along with a buffet of sweet desserts. Menu highlights include classic cold-smoked salmon with Kaluga caviar, crispy Iberico pork belly with parsley-cream sauce and fried fillet of plaice with classic remoulade.
No 2 Jianguomenwai Street, Chaoyang district, Beijing. 010-8567-1795.