Tummy treats, the Asian way
Share - WeChat Food as comfort doesn't need to be hearty all the time. But, it must be appealing. It should bring a smile to the weary diner, and perhaps whet an appetite dulled by the cares of the world.
Over the years, I've collected a file of recipes under this category, all with Asian influences. This is a collection of whimsical snacks and tidbits, little culinary tricks that I have used to tempt broken-hearted friends, or depressed colleagues needing a little mental and physical pick-me-up.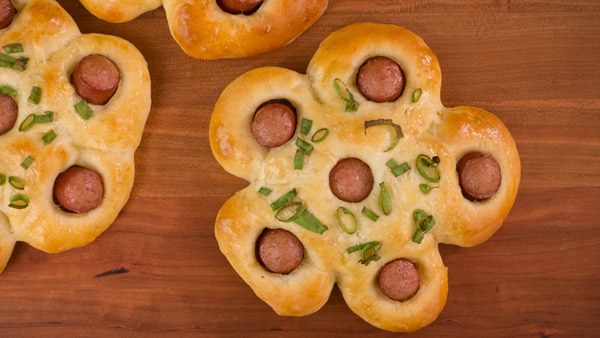 Plum Blossom Sausages
5 hotdogs or chicken sausages
Fish, prawn or meat paste
Place sausages neatly on a piece of aluminum foil. Shape fish paste into a thin roll same length as sausages. Roll up aluminum foil so sausages wrap around the fish paste. Roll up foil and twist ends tight. Steam over high fire for 10 minutes.
Rest 10 minutes before unwrapping. When the roll is cool, unwrap and cut crosswise. You will get a pink five-petaled flower with a white heart. Serve steamed, or you can lightly fry the flowers. Drop a few black sesame seeds in the center of each bloom. Garnish with fried parsley or basil leaves.
This is a beautiful flower-shaped snack. I don't remember where I learned it from, but the original recipe has raw dough in the middle. I think using fish paste is easier, and definitely tastier. If fish paste is not available, try using finely minced chicken or beef mixed with a beaten egg and cornflour.
The tough part is rolling it up properly so that the sausages wrap around the paste, but practice makes perfect is the first and only rule in the kitchen.
Dried Whitebait and Peanuts
1 kg dried whitebait
1 kg peanuts, with skin
Salt and sugar
Crushed black seaweed
Chili flakes
Do a whole batch. This is a multipurpose snack and garnish. Pluck and clean dried fish, removing head and innards. Place fish fillets on a large baking sheet. Bake at 180 C for 15 minutes to crisp. Cool and store in airtight container.
Pick through peanuts, removing bad nuts and grit. Spread peanuts on a tray, bake at 160 C for 10 minutes first, then stir and bake additional 10 minutes. When nuts are crisp, remove from oven. They will crisp even more when cooled. Keep in airtight containers.
To serve: Mix one cup each fish and nuts in a mixing bowl. Sprinkle over one teaspoon each sugar and salt. Sprinkle crushed crispy seaweed and chili flakes. Toss to mix well. The mix can be added to noodles or fried rice.
Dried whitebait is popular throughout Asia to make soup stock, snacks and as a condiment. We always had a bottle stashed away in a cool dark place. It was our pantry essential.
Most Popular