Tummy treats, the Asian way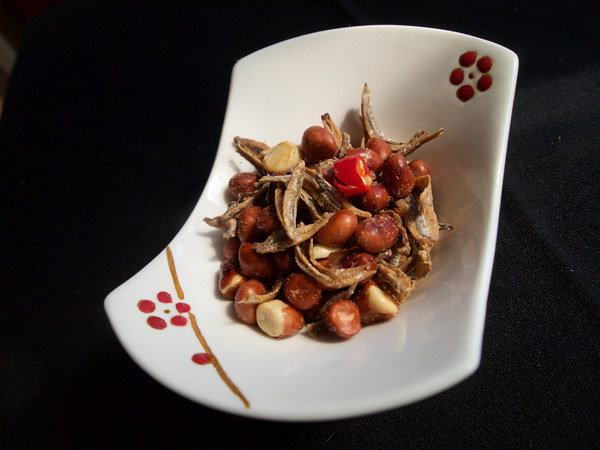 Century Egg With Ginger Pickles
2 century eggs, cut into quarters
Pickled young ginger
Sesame oil
Place egg quarters around a small saucer. Pile on young ginger in the center. Drizzle sesame oil around eggs.
Odd though it may sound, these black pickled eggs can be very comforting. Paired with the sweet, sour and slightly spicy pickled ginger, they wake up the taste buds very effectively.
Century egg salad
2 century eggs
1 tablespoon black vinegar
1 tablespoon honey
1 tablespoon sesame oil
Bunch of cilantro
1 tablespoon shredded pickled ginger
2 tablespoon cucumber julienne
1 tablespoon shredded carrots
Salt, chili flakes
Cut century eggs into quarters. Mix together cilantro leaves, cucumber and carrot. Combine vinegar, honey, sesame oil. Shake to get emulsion. Drizzle over salad. Pile salad in center of plate. Surround with eggs. Top with shredded pickled ginger, and scatter pinches of salt and chili flakes over everything. This is a variation of century eggs I first tasted when we bought our country home in Yunnan more than a decade ago. The locals love strong flavors and the combination of cilantro and century eggs was amazing, and the crunchy crisp carrots and cucumbers added to tactile stimulation on the mouth. Pop sleepy eyes wide awake.
Hangover eggs with chili and spring onions
2 eggs
Shredded spring onions
Shredded chili
Thick sweet dark soya sauce
Heat generous amount of oil or butter in pan. Break eggs into a little bowl and slide into hot fat. Allow edges of white to sizzle and crisp. Cook yolks to desired firmness. Drain. Place on saucer and pile on freshly shredded spring onions and chili. Dribble thick sweet soya sauce over.
When I still used to toss back vast amounts of whiskey after putting the newspaper to bed, this was a favorite cure for the hangovers. The hot fat coats and calms the pickled stomach lining, and egg is instant protein. It is also a very colorful dish and visually appealing. Paired with a glass of tomato juice spiked with hot sauce, it is perfect hangover food.
It worked for my brother as well, who had to routinely get drunk with his Chinese clients at one time.