Eat beat
Thai eatery wins official seal of approval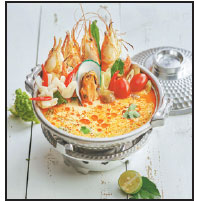 The Thai Rice House is listed in the "Thai Select" program run by Thailand's department of international trade promotion, which certifies authentic Thai cuisine. Executive chef Vicharn Phumsap has been working on Thai cuisine for more than four decades. His curry crab is his signature dish, and it goes well with rice. Steamed fish with lime is another highlight, as the pepper, fish sauce and garlic, together with the lime's sourness, go perfectly with the fish.
No 15 Zhongguancun Dajie, Haidian district, Beijing. 010-5397-5765.
Lincey tweaks its Italian fare for spring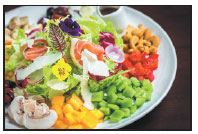 Lincey Italian Restaurant& Cafe is celebrating its first anniversary with a blue-color themed spring menu, comprising six new dishes and two cocktails. The shrimp-and-avocado tartare with passion-fruit yogurt sauce is a musttry. It comprises a passion-fruit shell filled with shrimp and avocado dices mixed with yogurt sauce and the pulp of passion fruit. The panfried sea bass with a cream-and-orange sauce presents foodies with sea bass fillets that are crispy on the outside yet tender on the inside.
0105A, 6 Chaowai Avenue, Chaoyang district, Beijing. 010-5869-0078.