HK looks to talent as key to future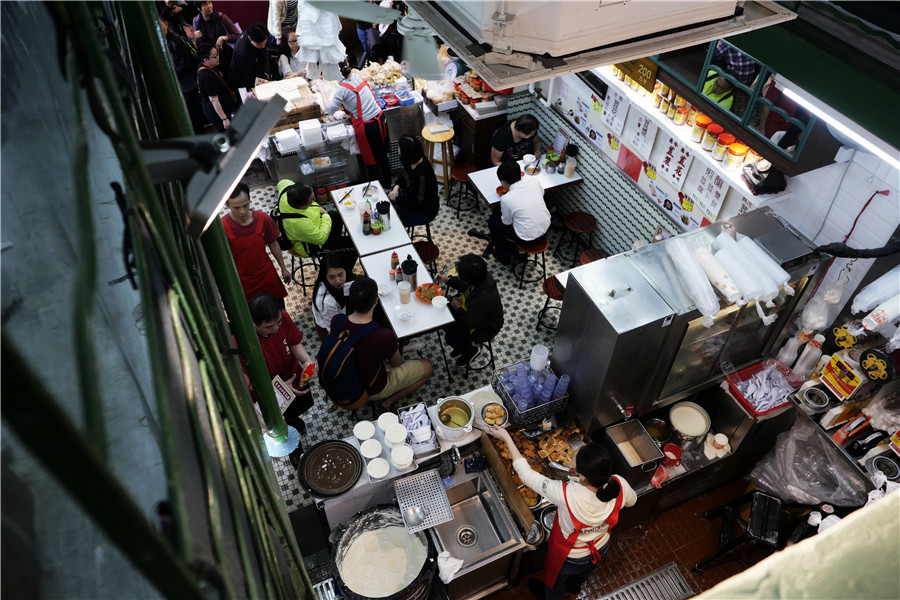 Rival cities
Expatriates are being joined by people born in Hong Kong in looking for greener pastures, including lifeguard Herman Lam, 37.
He went to Zhuhai, Guangdong, to visit a friend, where he noticed clean streets lined with upscale homes, and the pleasant climate.
Lam, who works at a private residence in Hong Kong, thinks he might find a better future in Zhuhai.
"I have been paying attention to the concept of the Guangdong-Hong Kong-Macao Greater Bay Area," he said, referring to the cluster encompassing nine cities in Guangdong, plus Hong Kong and Macao. The Bay Area is being developed as a world-class trading and technology area to rival Silicon Valley in the United States, and to surpass other major bay area trading hubs such as Tokyo Bay, San Francisco Bay and New York.
Chong, the economist, predicts that the nine Greater Bay Area cities in Guangdong will rival Hong Kong in terms of economy and lifestyle.
The Bay Area may ultimately remove some of the pressures of overcrowding and limited developable land in Hong Kong, and as the Bay Area evolves, the city is looking forward to being relieved of its tag as the one of the world's most expensive.
A case in point is Central district on Hong Kong Island, the city's premier business address, where corporate office space has been ranked the world's most expensive for three consecutive years by commercial real estate services and investment company CBRE.
High real estate costs are not confined to Central, however. Rentals on Russell Street, Causeway Bay, which is also on Hong Kong Island, have been tagged as the world's most expensive commercial real estate.
Sohail, a German-born pilot who works for a private airline, is confronting these high costs. According to Payscale.com, a self-reporting survey company, the average salary for a pilot in Hong Kong is HK$1.2 million a year plus bonuses.
But Sohail said "affordability" is a significant factor governing how long he is prepared to stay in Hong Kong.
He enjoys the city's distinctive architecture and iconic images of Victoria Harbour. "It (the skyline) is unique and very beautiful, especially at night, both on the Kowloon and Hong Kong Island sides," he said.
He lives in Central, where rent swallows up 30 percent of his salary. "Property prices are high and rising. At this point, it is difficult to think beyond five years," Sohail said.
Food, entertainment and utilities take another 30 percent of his income, while 15 percent goes on travel.
According to Rent Cafe, a statistics site, the average rent for a one-bedroom 55- to 85-square-meter apartment is HK$21,506 - 40 percent higher than a comparable home in Beijing.
In 2017, Hong Kong was ranked by Rent Cafe as the fourth most expensive city among the world's top 30 financial centers, which also included New York, London, Tokyo, Singapore, Seoul, Sydney and Toronto.
More than 20 percent of the population in Hong Kong was living below the poverty line in 2017 - the second-highest proportion since the poverty line definition was introduced in the city nine years ago. The proportion was lowered to 10.5 percent after government intervention, including cash handouts and benefits such as public housing.
Images of accommodations - known as "cage homes" and "coffin houses" - in which many people live have become a blight on Hong Kong.
In 2017, about one in four children in the city were living below the poverty line, according to the nonprofit Society for Community Organization.
Ming Wong, a 14-year-old secondary school student, is among the 230,400 Hong Kong children living in poverty. He lives in a SOCO-sponsored subdivided apartment with his mother in Mongkok, Kowloon.
The apartment is occupied by three families who share a living room, kitchen and two toilets.
In 2017, Sohail, the pilot, saw some cage homes in Hong Kong and volunteered to mentor Wong in English and life skills.
Sohail takes Wong to museums and other places of interest, and sometimes they go to watch movies. They are friends who chat through instant messaging when Sohail is flying.