SAIC joint venture to ramp up production in Indonesia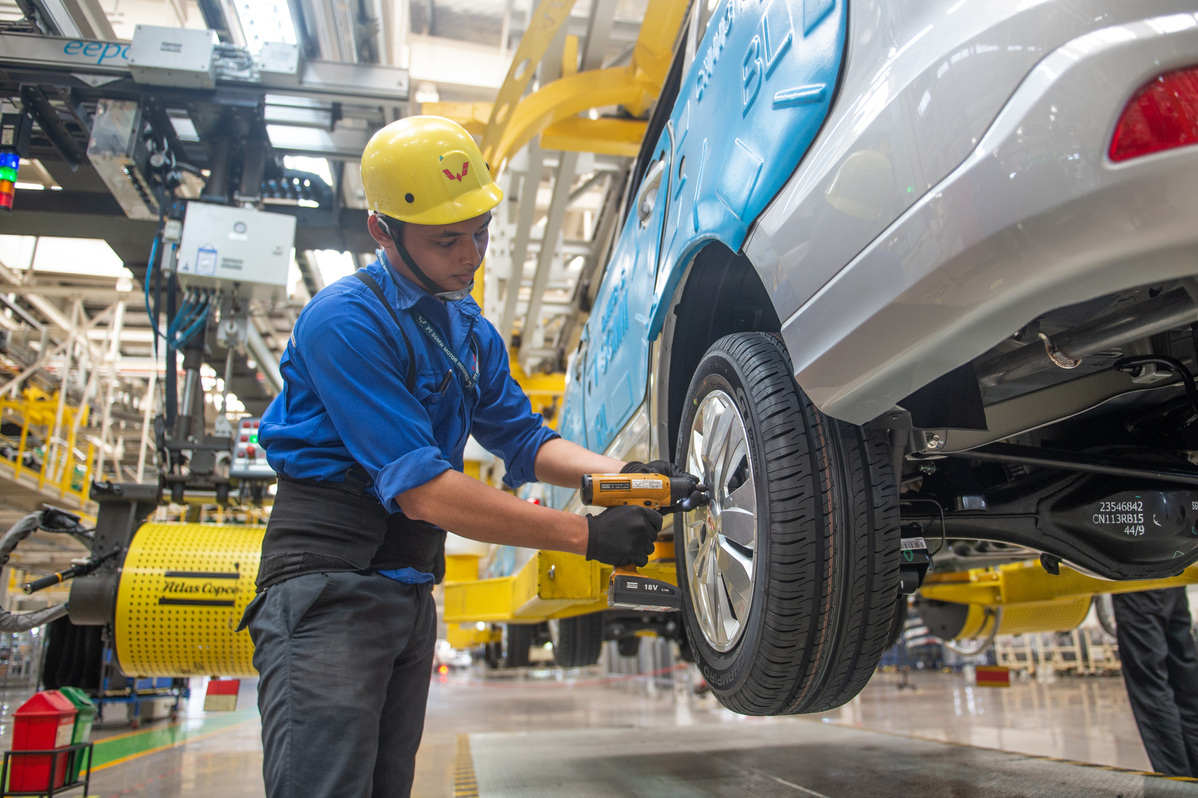 Company looks to boost competitive edge abroad with refreshed models
SAIC-GM-Wuling Automobile Co is set to rev up its production efforts in Indonesia, a major country involved in the Belt and Road Initiative that is expected to become a hub for the carmaker's sales to other Southeast Asian markets, according to a senior executive.
"We will roll out refreshed or all-new models every year to sharpen our competitive edge in the Indonesian market," said Zhou Xing, marketing director of SGMW.
Indonesia is one of some 30 countries, mostly in Southeast Asia, Africa and the Americas, where it is selling cars, but the only place where it has built a plant.
He said the company is considering making Indonesia a regional hub of exports, adding that it has started to negotiate business with nearby countries including Thailand and Brunei, which are also Belt and Road countries.
SGMW's Indonesian plant, located in Cikarang, started operations in July 2017. With an investment of $700 million, it is SGMW's first overseas manufacturing facility and China's largest automotive investment in Indonesia. The plant, with a maximum annual production capacity of 120,000 vehicles, is currently producing and marketing four models, which are developed based on SGMW's best-sellers in China.
Within two years of its arrival, the carmaker has been making rapid progress through its sales network in a market dominated by Japanese companies.
Statistics from the Association of Indonesia Automotive Industries show that SGMW's sales rose from 4,958 in 2017 to 17,002 last year, which ranked it ninth on the list of brands available in the country.
Japanese carmaker Toyota was the top-selling brand in 2018 with 352,161 cars, followed by Daihatsu with 202,738, Honda with 162,170 and Mitsubishi Motors with 142,861.
"Indonesia has a lot of market potential but not enough competition. As a new brand in the country, we would like to be a good competitor," said Zhou.
"We have our advantages and space for development, with focus on product quality and niche segments creating more value for customers."
The latest model in its lineup, a sport utility vehicle called Almaz, which has seen good market response since its launch in February, will help SGMW to boost its brand awareness among local customers.
"As we see, today the trend for SUVs is there in Indonesia. More and more people are using SUVs and we see that the market is getting bigger, so we are introducing our SUV here," Dian Ashmahani, a brand manager of SGMW's Indonesian operations, told the Jakarta Post.
According to the local newspaper, SUVs are one of the most lucrative automotive segments in Indonesia, after multipurpose vehicles.
SGMW is planning to expand its sales network as well. So far, it has 93 dealerships across the country.
The company said its success stories in the country are based on its understanding that a company cannot achieve sustainable development in overseas markets if it does not aspire for extensive and long-term localization.
"We are stepping up efforts to help localize spare parts. With us, a total of 16 Chinese suppliers have made their establishments here in Indonesia, covering items ranging from steel and plastic parts to air conditioners," said Zhou.
"This will increase our competitive edge as a system, cut the cost of spare parts and speed up our response to the market."
Zhou said the company is meanwhile working with more local suppliers as well, which will help boost the development of the automotive industry in Indonesia.