Human Horizons focuses on future of transport
Share - WeChat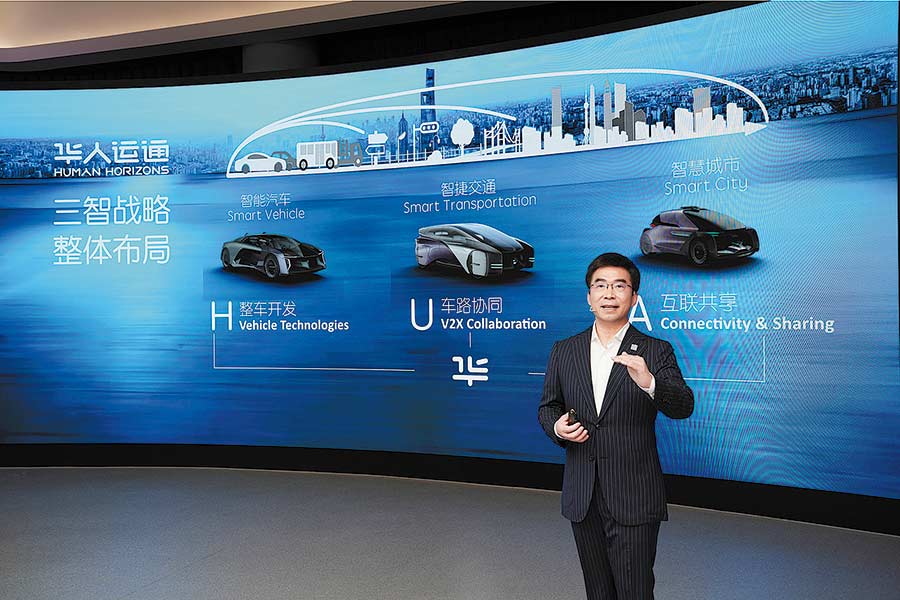 Chinese startup Human Horizons unveiled its strategy last week featuring "smart vehicles, smart transportation and smart cities" in a bid to offer comprehensive mobility solutions in modern cities.
In its blueprint, vehicles will be able to interact with infrastructure and will be capable of connectivity and autonomous driving.
The "3-Smart" strategy is not just about individual vehicles; it is aimed at future transportation under different scenarios, according to Ding Lei, founder and chairman of the company.
He said vehicle development is on track - the first model is expected to be unveiled later this year and mass production should begin in late 2020.
Human Horizons is partnering with suppliers Bosch, Continental, Aptiv, Aisin Seiki, Yanfeng Group, CATL, Dow, Dassault and Siemens. It said that 80 percent of components used in the first model are now under development.
The company said it is building state-of-the-art vehicle systems to keep abreast of the times, including developing specific physical architectures, data-oriented smart electric architectures and future-oriented powertrain technologies, as well as active and passive vehicle safety systems.
With the V2X - vehicle to everything - technology, the vehicles will be able to drive autonomously so that passengers can better enjoy the pleasure of travel.
Technologies involved also include high-bandwidth and short-distance communication, data analytics and road monitoring and sensing, the company said.
Human Horizons has already made achievements in this regard.
In January, a pilot smart road project started in Yancheng, Jiangsu province. It is also expected to take part in similar projects in other parts of the country, the company said.
The efforts will pave the way for its smart city vision. Based on 5G, internet of vehicles and other technologies, Human Horizons said it will build diverse mobility carriers to suit different transportation scenarios in cities.
Since its establishment, Human Horizons has built up a team of more than 700 people from seven countries, specializing in aspects such as the internet, artificial intelligence, vehicle engineering and parts manufacturing. The company said many of them are former executives and employees of leading international companies, and more than half hold a master's or doctoral degree.
Human Horizons is to further expand its facilities, as well. In addition to the existing research and development center, operation center and design center, the company will unveil its smart manufacturing center next month.
The company said it is deciding on whether to build a new plant or renovating an existing facility. Either way, the plant will be operated by Human Horizons' management team and factory employee, and will manufacture products using its own technologies, it said.