Peking Opera play New Dragon Inn to debut in Shanghai
Share - WeChat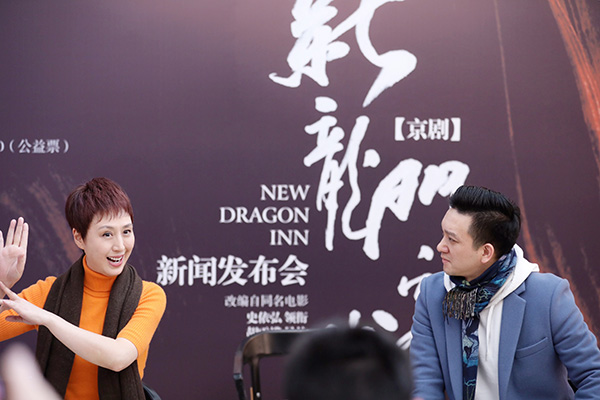 A new Peking Opera production, New Dragon Inn, which has been adapted from a movie by the same name, will premiere at the Shanghai Grand Theatre on April 30.
The 1992 movie starring Lin Ching-hsia, Tony Leung, Maggie Cheung and Donnie Yen is recognized as one of the best martial arts movies that was produced during a revival of the genre in the 1980s and'90s.
The new production is a joint venture between HYM Culture Media Co, which was founded by renowned Peking Opera artist Shi Yihong, and the Shanghai Peking Opera Theatre.
The film depicts a swordsman named Zhou Huai'an and his fiancee Moyan who protect two orphaned children who are being persecuted by a power-hungry eunuch and his elite army.
At the Dragon Gate Inn, the heroes meet the innkeeper Jin Xiangyu, who later falls in love with Zhou and becomes involved with his cause.
The film, which centers around themes of love and righteousness, also has fast-paced action sequences and martial arts stunts, which should provide the right ingredients for a Peking Opera production, says Shi, who is especially fascinated by the role of Jin.