Personal data protection a necessity in digital age
Share - WeChat Not too long ago, I almost fell victim to a phone scam. If not for a quick-witted colleague, who pointed out that the scammer masquerading as a suburban tax office employee should more likely than not sport a local accent, I would have divulged personal financial information that could have resulted in painful losses.
The incident made me more guarded about giving out any personal details whatsoever, especially those to do with money. That is, until I was back in Beijing. In just two days, I revealed my bank account details to at least five online vendors. I also provided them with other personal information such as addresses and contact numbers. Binding my bank cards to mobile payment platforms was not only straightforward and seamless, but also necessary if I wanted to be part of an increasingly cashless marketplace where I could pay for food, other basic necessities and an expanding array of services.
But the paranoia planted in me by that close call with scammers made for sleepless nights. Who knew what my information was being used for? And if accessing my funds was simply a few mouse clicks away, wouldn't it be just as easy for identity thieves to do so?
So, it was with significant relief that I read about the latest legislative efforts being made in China to boost the regulation of personal data collection and better protect people's privacy as technology is adopted ever more rapidly.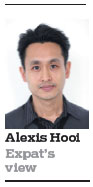 At the recent news conference for the second session of the 13th National People's Congress, its spokesman, Zhang Yesui, said laws on personal information were being given priority amid the development of new technologies.
Many lawmakers also expressed their interest in personal data protection, with more regulated use of information seen as a major factor in safeguarding people's privacy.
A personal information protection law, listed in this session's legislative planning, would be studied and drafted, Zhang said.
The authorities certainly recognize that with the rapid growth of the internet and the digital economy, the rights and interests of citizens are vulnerable to the illegal collection, abuse and disclosure of personal information. Legislation is seen as a main channel for protecting citizens' property and ensuring their safety, as well as regulating the healthy and orderly development of the internet.
Laws, rules and regulations related to personal information protection now include the Criminal Law, Cyber Security Law, E-Commerce Law, General Provisions of the Civil Law and Law on the Protection of Consumer Rights and Interests.
There must now be a law "specifically on the protection of personal information to form a unified force of regulation", Zhang added.
The moves are a clear signal that efforts must be made to keep up with technology. For one, the convenience of cashless transactions makes a return to the days of hard currency inconceivable for many in the Chinese capital. Beyond that, emerging fields such as artificial intelligence and big data are poised to mine individuals' information even more thoroughly. From smart lifestyle devices such as home entertainment systems and appliances, to mobile communication platforms like social networking apps, individual tastes and preferences will be increasingly used to help customize commercials and various other aspects of consumption alone.
As for the threat of phone scammers, authorities have since reinforced demands on financial institutions to strictly monitor online transactions and secure customers' details. A real-name registration system for phone users to prevent people using false identities is also now firmly in place, all helping to add welcome layers of personal data protection.