Businesses commit to China's future
Share - WeChat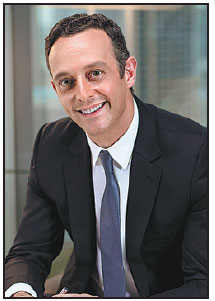 STEPHANE RINDERKNECH, CEO, L'OREAL CHINA
A1 China went from a country that had just emerged from a planned economy to the second-largest economy and consumer market in the world; from a world factory to one of the world's innovation hubs. It is using more power responsibility as a new leader to drive globalization.
Our beauty legend in China started with a dream of "putting a lipstick in the hands of every Chinese woman" and led us today to champion China's beauty market.
A2 We did not witness any sign of an economic slowdown in 2018. We are confident in the long-term prospects of China's economy as reform and opening-up continues. Beauty is a permanent aspiration. Today, Chinese consumers' beauty aspirations keep evolving. Consumers are becoming more sophisticated, and value quality and efficacy over price tags, which brings about opportunities for L'Oreal.
A3 It is widely anticipated by foreign companies, and is a signal of China's firm determination to further open up, improve the business environment and push forward globalization.
An increasingly open, fair, predictable and favorable business environment protected by legislation will definitely help us develop with lower costs and greater efficiency.
A4 We applaud the exciting progress Chinese companies have made in moving up the value chain across various industries. We are looking forward to their greater strides in becoming more consumer-centric, market-oriented, innovation-driven and talent-empowered to strengthen their competitive edge in an ever-changing and more globalized market.
A5 We welcome the government's continuous efforts to streamline administration and build a world-class business environment. L'Oreal has been increasingly benefiting from these efforts.
As concrete action, the online filing mechanism for non-special-use cosmetics piloted in free trade zones greatly increased our efficiency in introducing premium and high-quality products to Chinese consumers to meet their aspirations, for the first time on a par with their global counterparts.
We are happy to witness a series of new and innovative initiatives from the start of this year from all over China and are looking forward to their effective rolling out, like Shanghai's one-stop online service hub.