Businesses commit to China's future
Share - WeChat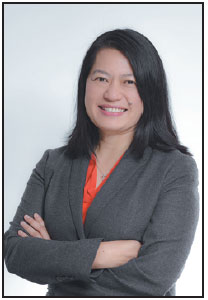 CELINA CHEW, PRESIDENT, BAYER GROUP CHINA
A1 The biggest achievements are in the areas of social and economic development, and in China's global impact. China has transformed itself, with dazzling speed and scale, from a country with a small economy and very little infrastructure, to a significant economy that is stable and prosperous, and leading the world in several aspects like industrialization and digitalization.
A2 China's pivot to higher-quality economic growth, focused on innovation and sustainability, very much fits into Bayer's strategy for China. China's road map, "Healthy China 2030" fits very well with Bayer's product portfolio across our areas of expertise in pharmaceuticals, consumer health and crop science. China's Internet Plus initiative inspires us to keep up to date with digitalization and technology trends, including collaborating with local companies like Alibaba and JD.
A3 The draft foreign investment law is an indication of the Chinese government's willingness to further open up its market to foreign businesses and address concerns that have been expressed by foreign investors, especially viewed in the context of other initiatives like the negative list and free trade zone systems. We appreciate China's efforts in this regard and encourage additional initiatives to open up the Chinese market, especially for innovative products and technologies.
A4 The 2018 Government Work Report indicated that China would accelerate the development of big data, cloud computing and digitalization in order to transform traditional industries and improve manufacturing capabilities. To achieve this, it is very important for China to cultivate and attract the right talent. Apart from talent with the right technological (and STEM) capabilities in these fields and the right mindset, it is also important to create an open and inclusive environment to support innovation and spark new ideas. The willingness to upgrade facilities with advanced manufacturing technology is also crucial.
A5 We appreciate China's efforts to improve work efficiency and productivity. By streamlining approval processes and bringing more clarity to regulatory enforcement, more high-quality products can be brought to China faster, which benefits the Chinese people. One example is the faster approval of innovative drugs to China as a result of drug regulatory reforms. We hope to see similar regulatory reforms in the agrochemicals and agricultural biotechnology sectors.