Knight at the museum
Share - WeChat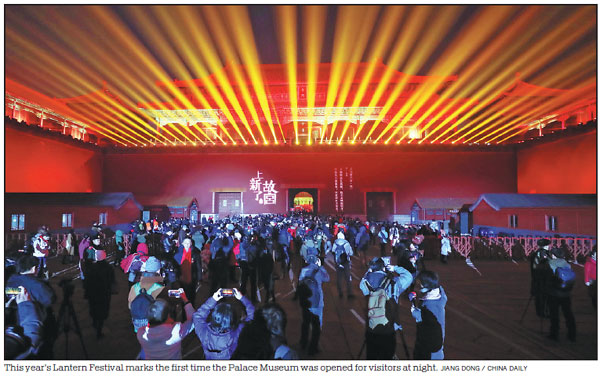 Director faces both praise and criticism for rare Lantern Festival light shows.
Two recent nights of dazzling light shows at the Palace Museum in Beijing has fetched the former imperial seat of government a lot of media attention.
Large crowds gathered in and around the compound, watching the display of colorful lights there on the night of Feb 19, which was celebrated as Lantern Festival in China.
It was the first time that the Palace Museum, also known as the Forbidden City, opened its gates to public visitors at night since the world's biggest palatial construction complex, which is about 720,000 square meters, became a museum in 1925. It was China's royal palace from 1420 to 1911.
But controversies also surfaced.
Scalpers charged even thousands of yuan for an entry ticket sensing the monumental opportunity to make money, though the reservation was officially "for free".
And, when some logos of sponsoring enterprises of the event were digitally projected on the Gate of Supreme Harmony at the museum in the light show, a wave of criticism followed.
Song Xiangguang, a museology professor at Peking University, asked on his social media account if the practice had violated basic principles of museum operation.
Shan Jixiang, 65, director of the museum, says according to the original plan, the lights would be projected on the Hall of Supreme Harmony, the highest-level architecture in the Forbidden City. But he knew that would look a little exaggerated to light up that highest-level architecture in the Forbidden City with flamboyant colors. He says he had less than 20 days to prepare for the light shows when he got the project. And he adds, in spite of his compromises and adjustments, he cannot please everyone.
As the chief custodian of over 1.86 million cultural relics, many of which are royal collections from over centuries, Shan knows any major decision he makes will come under public scrutiny.
"I'm walking on thin ice," he says.
"But there are things I need to do. If all these treasures sleep in warehouses and people cannot feel a connection with them, as museum administrators we won't be doing enough."
When he sat in the director's chair in 2012, Shan had his work cut out: Over some years before, the museum was hit by burglary, a visitor broke its exhibits and only 30 percent of the complex area was accessible to the public that led to overcrowding in peak season. A common remark by visitors back then suggested they didn't want to see the architecture alone but also the relics.