PBOC swears by prudent policy
Share - WeChat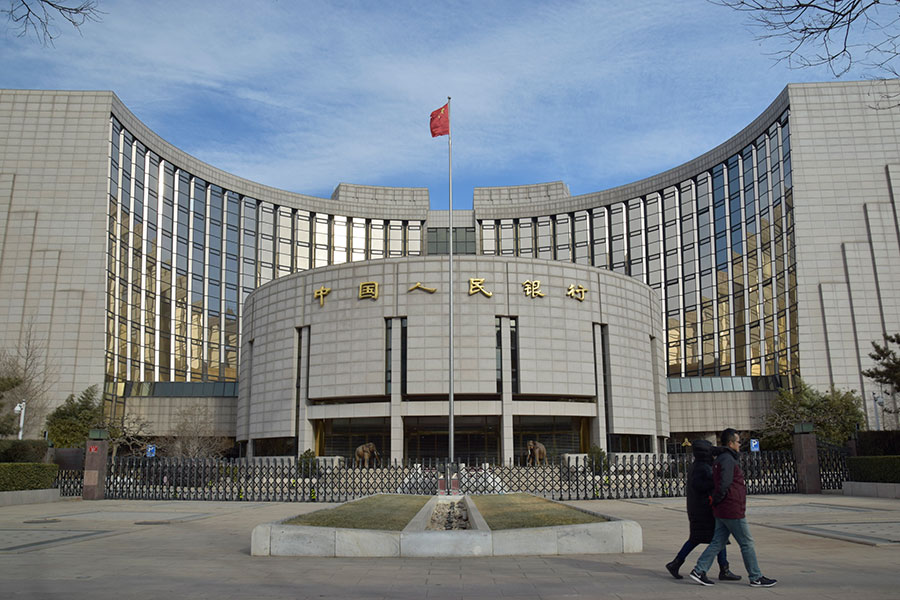 Nation unlikely to purchase more Treasury bonds or implement new QE measures
Cutting the reserve requirement ratio (RRR) will remain policymakers' go-to tool if they need to boost liquidity and tackle deflation or economic cooling, economists said on Friday, after the central bank published its latest quarterly monetary policy report.
China will continue to maintain a stable and prudent monetary policy, but that does not mean unchangeable monetary conditions all the time, said the People's Bank of China, the central bank, in its report.
The central bank confirmed that it will continue to offer fine-tuned responses as and when macroeconomic conditions change, and vowed to counterbalance cyclical volatility.
However it dismissed speculation from some circles that it would purchase Treasury bonds or go for quantitative easing measures, like those seen in some advanced economies after the global financial crisis.
"It is not that necessary to purchase Treasury bonds from the financial market, nor is it necessary to implement quantitative easing," the PBOC said.
Meanwhile policymakers said they are ready to step in to cool down overheated growth and inflation, or prevent economic recession and deflation.
The monetary authority also stressed the need to balance internal policies with the external environment, and keep flexible renminbi exchange rates reasonably stable.
The PBOC is also planning to launch supervisory guidelines for large financial holding groups and tighten regulations for internet financial companies to help stabilize the financial sector and prevent risks.
Reacting to the report, analysts said an RRR cut is a reasonable choice for boosting liquidity, especially as "aggressive flood-style stimulus" measures have been abandoned by policymakers.
Cutting the amount that banks have to hold back as deposits, can provide long-term liquidity for the market, said Fei Zhaoqi, a researcher at the National Institution for Finance and Development, a State-owned financial think tank.
The current RRR for large commercial banks is 13.5 percent, compared with 11.5 percent for medium-sized and small banks, and 8 percent for county and rural financial institutions, the PBOC report said.
Fei added that at this point of the monetary policy transformation process, it is necessary to use interest rates as the major tool to influence the macroeconomy, instead of money issuance.
"This is not the start of a major stimulus phase, and we expect the policy easing to remain relatively contained," said Louis Kuijs, the head of Asia Economics at Oxford Economics. "Policymakers don't want to be seen as 'overdoing' the stimulus and don't want to jeopardize the achievements in terms of containing leverage and reducing financial risks.
"It would not be surprising if, after the strong credit outturn in January, policymakers slightly tone down their efforts to push financial sector lending. Also, while we expect further RRR cuts, we do not forecast an interest-rate cut this year," he said.
For authorities, how to make commercial banks lend more freely to small and private companies has become one of their chief concerns, in their pursuit of stable economic growth. They see banks as the "pivot" for guiding funds into the real economy.
Efforts to promote lending since the third quarter of last year appear to have paid off, as new yuan loans surged last month.
In January, bill financing in China contributed nearly one-fifth of the 4.64 trillion yuan ($691 billion) increment of aggregate social financing, up 13.5 percentage points from a year earlier, according to the central bank data.
But policymakers warned that some funds may be flowing into the financial sector for reasons other than supporting production.
Bill financing, a kind of short-term and low-interest loan, was cited as the culprit for increased financial arbitrage. Some companies have been accused of taking low-interest loans and investing them in higher rate wealth management products.
Interest rates widened especially after the Chinese monetary authority injected liquidity into the financial market from last year, through measures including new targeted re-lending programs and cutting RRRs.
Liquidity injection has reduced the interest rate level in the money market. But banks' actual lending rates for companies, especially the small and private ones, have hardly changed.
Central bank officials explained that the wider range of interest rates is because the monetary policy transmission mechanism still faces hurdles. They said the overall interest rate system should be led by the market eventually, and that upcoming reform will further reduce administrative intervention.