Shortage of truck drivers: roadblock for global economy
Share - WeChat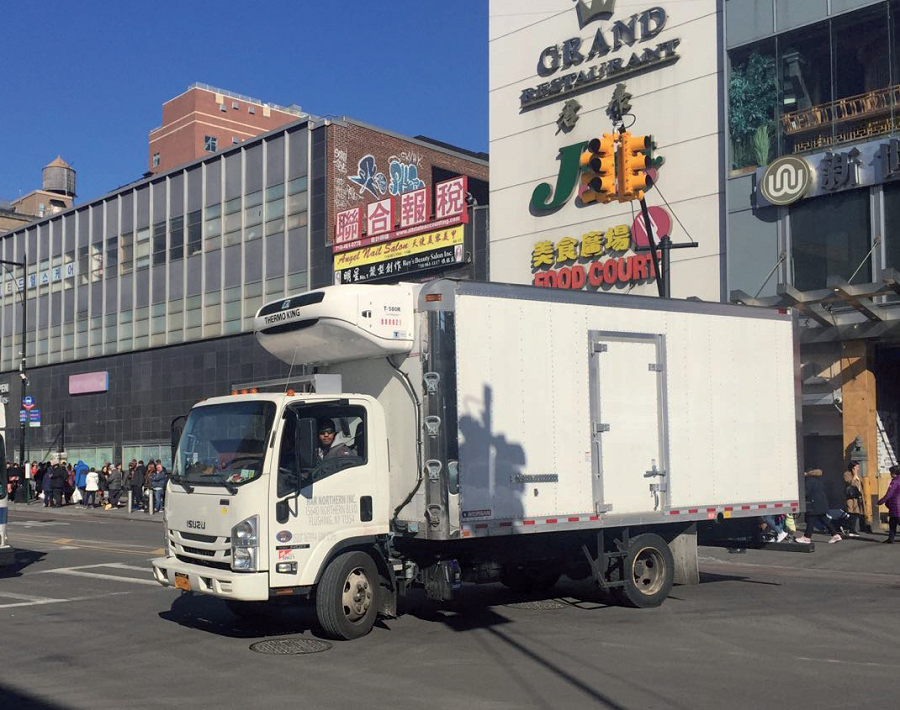 When Chris Blue of Roselle, New Jersey, became a truck driver more than 30 years ago, he was attracted by the lure of the open road and the challenge of operating a large piece of equipment.
"You are your own boss and you get a constant change of scenery," Blue said. "The better you become at your craft, the more in demand you will be."
As Blue, 53, still navigates the highways, companies across the globe are scrambling to recruit more drivers like him.
A shortage of truck drivers affects Asia, Europe, and North and South America, due to a combination of factors.
"Everything you get at some point was moved by a truck," said John Diab Sr, president and CEO of Smith and Solomon, a truck-driving school operating mainly in the eastern US that graduates more than 3,000 drivers a year.
Nearly 71 percent of all the freight tonnage moved in the US goes on trucks. To move 10.5 billion tons of freight annually requires more than 3.6 million heavy-duty trucks and over 3.5 million drivers, according to the American Trucking Associations (ATA).
With the US unemployment rate below 5 percent, the industry has struggled to find enough qualified drivers. The shortage stood at about 50,000 in 2018, the ATA said.
Diab said drivers usually start out at around $50,000 a year, plus benefits.
"In the second year, that $50,000 can go to $60,000 to $65,000," he said. After 10 years, most drivers will earn in excess of $75,000, he said.
The driver shortage has economic consequences, including a disrupted economy and higher prices for consumers, said Boris Blanche, managing director of the International Road Transport Union (IRU) in Brussels, which is a world road transportation organization.
He said the industry on a global basis is currently facing the most acute professional driver shortage in decades.
"In China, there is currently a gap of around 4 million drivers, with western regions having the biggest shortfall. Each year in Germany, 30,000 truck drivers retire, but only 16,000 new drivers join. The current gap is 45,000, and this figure is rising with a predicted 150,000 shortfall by 2022," Blanche said.
The role of demographics
The driver shortage is a global problem, often with the same reasons for the shortfall across different continents and cultures. One common factor is an aging workforce.
Diab of Smith and Solomon said the average age of a truck driver in the US today is 55.
"At 55, they start to think about getting out, and when they reach 60 to 65, they are ready to retire," he said. "The industry has a significant amount of attrition."
"Demographics is a factor. The workforce is aging, and there are not enough new drivers coming in to fill the gap," added Blanche.
Turning to China, he said the China Road Transport Association (CRTA) produced a report on the subject.
"Their research identifies reasons such as the job being thought of as repetitive, the comparatively low pay, unsatisfactory working conditions (in terms of the vehicles, facilities, and social respect) and limited career promotion/advancement opportunities. Whereas in developed countries it is generally a lack of new talent entering the workforce, in developing countries, the problem often lies with the lack of training and training facilities," Blanche said.
In the US, Diab said a regulatory requirement is also contributing to the shortage. Truck drivers in all 50 states are required to obtain a commercial driver's license (CDL). Diab said a CDL issued in New Jersey is also good in other states.
Those who are 18 to 21 years of age are eligible to receive a CDL if they pass a state's required tests. However, drivers must be 21 in order to drive between states. That means that 18-to-20-year-olds can haul loads only within the boundaries of the states that issued their CDLs.
"In New Jersey, if you get an intrastate license, it means you can't go into New York or Pennsylvania (two neighboring states)," Diab said. "So there is a push by the (ATA) and our association of schools to get (18-to-20-year-olds) to be allowed to drive on an interstate basis. That would help to cut the shortage dramatically."
Finding solutions
Truck driving was and remains a male-dominated profession globally. Blanche said the industry must look at ways to attract a new young and diverse workforce, including the employment of women, younger people and ethnic minorities.
Diab said the number of women drivers in the US has grown dramatically over the last 10 to 15 years, but they still represent only 6 percent of the truckers on the road in America.
Female drivers comprise only 2 percent of the European workforce, said Blanche. "Both female and male truck drivers across Europe recognize that bringing more women drivers into the industry would significantly help to plug the gap left by the driver shortage," he said.
"I do see more (women drivers), but it's still minimal," said New Jersey trucker Blue. "I see more female drivers than I did 15 years ago."
Blue, who has two daughters, said he wouldn't object if they wanted to follow in his career footsteps: "Go ahead and do it but be safe."
Diab said the industry is in the midst of a major equipment change that may help in the hiring of more women drivers.
"OTR companies are phasing out standard-shift (manual) trucks to automatics to hopefully attract more women to the industry," he said.
Blanche said the IRU is researching the issue and looking at the perceptions of the industry across the gender divide, including job satisfaction and working conditions.
Technology also will probably play a role in solving the shortage.
In Japan, UD Trucks, a unit of Swedish truck maker Volvo AB, will introduce autonomous vehicles to help alleviate the shortage in that country.
"There are many reasons why autonomous driving will be important in Japan, but I would say it's more critical here than in other countries because of the aging society," Douglas Nakano, senior vice-president of UD Trucks, told Transport Topics.
In December, UD Trucks introduced a highly sophisticated level of automation for heavy-duty trucks.
"UD Trucks (introduced) a fully automated truck aimed at use in confined areas such as ports and factories. UD Trucks aims to start trials (in) 2019 and commercialize in 2020, hoping to solve driver-shortage issues in the logistics industry," Nakano told China Daily.
Some who are already employed in the industry may perceive autonomous or driverless vehicles as a threat.
"As autonomous or driver-assisted trucks hit the roads and the headlines, there is a misconstrued concern among many that there is no future for jobs in the transport sector. The reality is quite different. Although driverless vehicles are coming, the transition will take time, given increasing customer and logistics demands," he said.
Drew McElroy, co-founder of a trucking startup, said a lack of drivers isn't the only problem the industry has to address.
He is CEO and co-founder of Transfix, a New York-based freight brokerage that is using technology to make the industry more efficient.
"Truckers drive nearly 65 billion miles with an empty trailer each year. If we can help the industry utilize those empty miles, we can unlock capacity that already exists but is currently being wasted," McElroy told China Daily.
He said Transfix is focused on better utilizing the trucks on the road by matching them to loads that are closer to their last drop-off.
That increases efficiency by tapping into that wasted capacity, and also increases take-home pay for drivers, as they're able to run fully loaded more often.
Despite the issues facing the industry, Rod Suarez, an economic analyst with the ATA, still sees a positive future:
"The first and final mode of transportation for just about everything involves a truck, and that's not changing anytime soon. The industry as a whole is determined to fix the driver-shortage issue, and we're confident that we will accomplish such sooner rather than later."