Security and peace efforts benefit Africa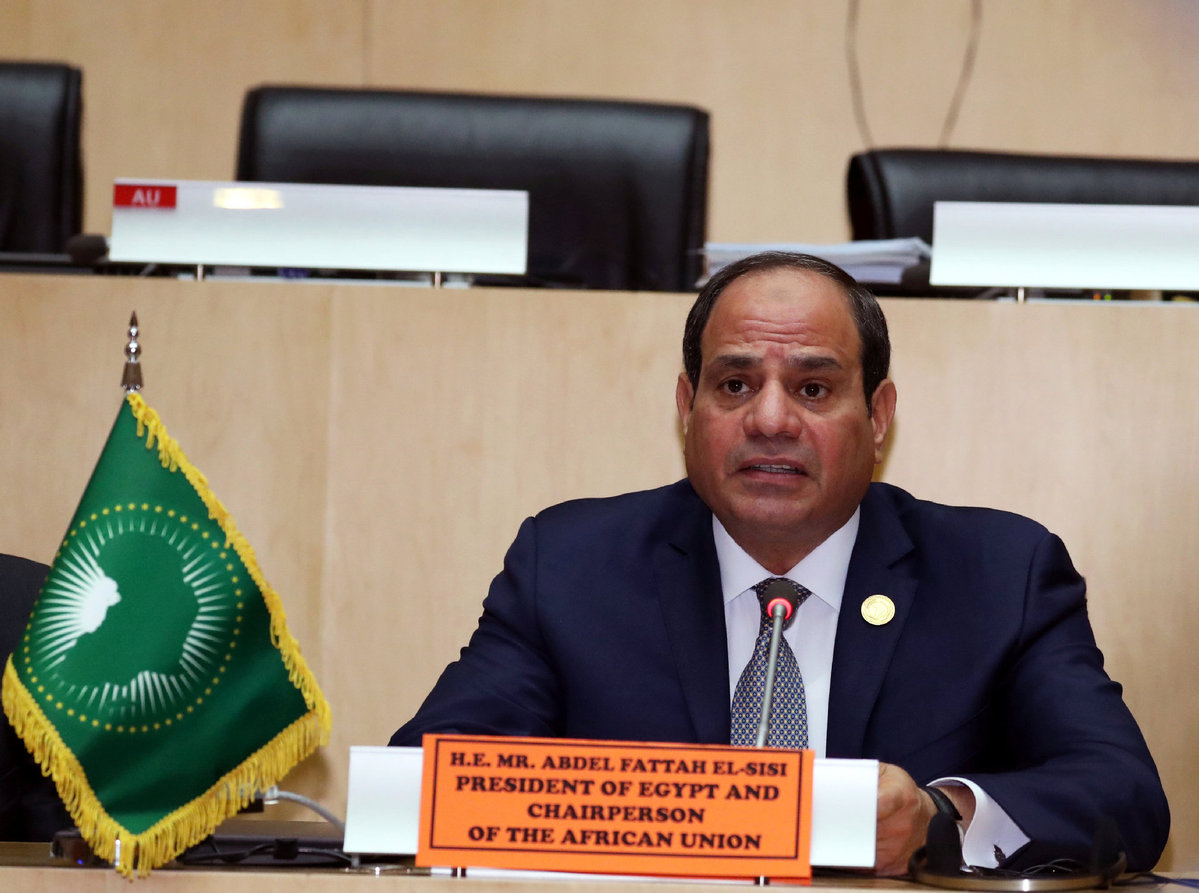 Egypt sets an anti-terrorism model for other countries on the continent
Africa's move to double its security efforts will cut down on the movement of people across borders and galvanize the continent's global profile for foreign investments, according to experts.
Their sentiments follow strong pledges made by Egyptian President Abdel Fattah al-Sisi on Monday in Addis Ababa, Ethiopia.
Experts believe that the move will allow investments to be made in human capital and expand opportunities in critical sectors such as health that continue to be seriously underfunded.
The average health expenditure in African countries stood at $135 per capita in 2010, which is only a small fraction of the $3,150 spent in a typical high-income country, according to the World Health Organization.
Sisi, who currently chairs the African Union, said African leaders have welcomed progress in ongoing peace and security initiatives.
"We are going to pursue mediation and preventive diplomacy to promote peace and security. African problems need African solutions," he said.
He said the AU and the United Nations will hold a global conference in July to try to resolve the conflict. He took stock of recent peace agreements signed in South Sudan and the Central Republic of Africa.
Moreover, borders are now open between Eritrea and Ethiopia, ending long-held tensions between the two neighbors, he said.
The choice for this year's AU summit to focus on refugees and internally displaced people reflects the challenges African countries are facing. The continent hosts a quarter of all asylum-seekers and IDPs fleeing armed conflict, climate change and terrorism.
Robert Otieno, an expert based in Nairobi, Kenya, said Africa's decision to address armed conflict will benefit immensely from Egypt's experience in fighting terrorism. The country's efforts have been globally recognized, he said.
Egypt is even recording growth in the tourism sector. Hotel occupancy jumped from 21 percent in the first quarter of 2017 to 60 percent in the same period of 2018, according to STR Inc, a US research company.
"Sisi has waged a sustained onslaught against terrorism whose activities have significantly affected the Sinai region, where the country has made substantial investments in hotels and infrastructure. We have seen the market resuming its vibrancy and competing again with Kenya and South Africa," Otieno said.
Egypt is also a major global player in UN peacekeeping missions, having sent more than 30,000 troops on a total of 37 missions. It has also offered to host the AU Center for Post-Conflict Reconstruction and Development and a unit for mediation support and conflict prevention within the AU Commission structure.
This speaks volumes about the focus of Sisi's one-year tenure as the chair of AU. "Africa wants durable solutions that put it in control of its internal issues. Success in reducing armed conflict will buoy its voice in the global stage," Otieno said.
Most countries are embracing wide-ranging political reforms pertaining to governance. This sets the momentum for deepening inclusivity and serving previously marginalized populations.
At the same time, governments are becoming more confident about engaging the private sector in partnerships that would increase funding in other critical areas such as health. Akiwumi Adesina, president of Africa Development Bank, said there are clear linkages between health and peace.
"Unhealthy and sick children trigger restlessness and feelings of disenfranchisement in societies. It is time governments address malnutrition in children and open doors for private investments in the health sectors," he said on the sidelines of the AU summit.