Higher goodwill charges dent earnings prospects of A-share firms in 2018
Share - WeChat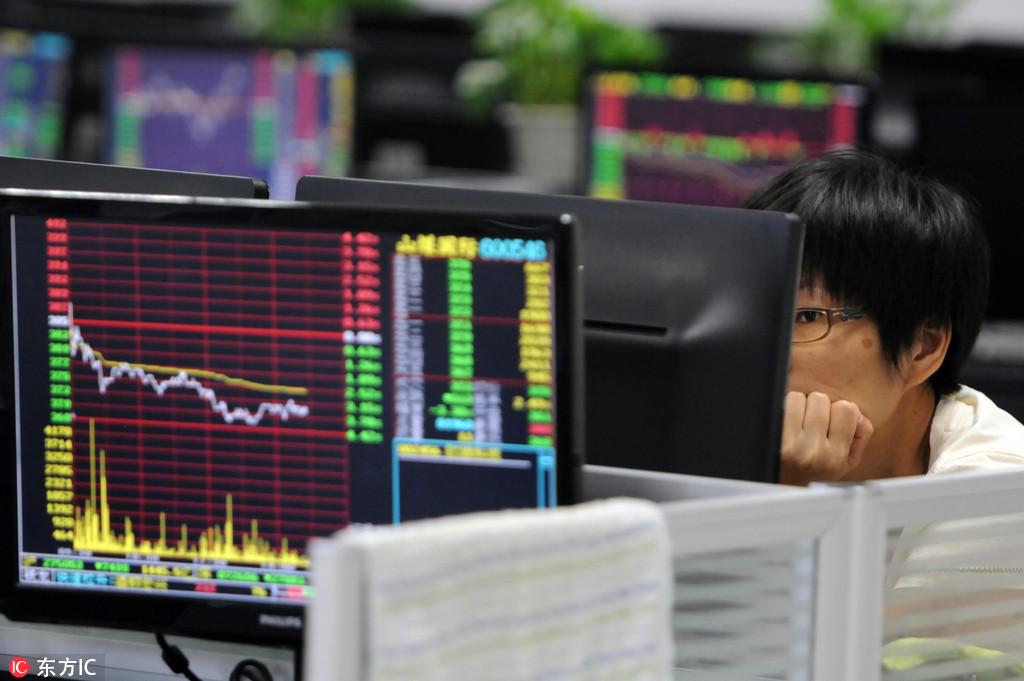 The risks behind an earlier wave of acquisitions among mainland-listed companies manifested itself this week, leading to earnings losses that rattled investors but pave the way for a bullish A-share market, analysts said.
On Wednesday, 197 mainland-listed companies posted interim annual losses, following the 123 firms that did so from Sunday to Tuesday, according to data compiled by Shenzhen, Guangdong province-based financial media agency stcn.com.
A large proportion of the companies are listed on the ChiNext board, China's Nasdaq-style board of growth enterprises.
The losses spooked investors, driving the ChiNext Index to a four-session losing streak this week, dropping by 2.96 percent to close on Thursday at 1227.99 points.
The major drag on earnings was due to large-scale goodwill impairment, and "is closely related to the boom in acquisitions among companies listed on the ChiNext in the 2014-15 period", said Zhang Xia, chief strategy analyst at Shenzhen-based China Merchants Securities.
Goodwill arises from mergers and acquisitions. When an acquiring company pays more than the fair value of a business being acquired, the excess amount paid is called goodwill and is entered onto the balance sheet as capital.
When a mainland-listed company acquires another company, the two parties typically sign a contract that stipulates annual performance targets of the acquired party over several years following the acquisition.
If the acquired business misses the performance target during this period, the result is the goodwill impairment of the acquirer, which in turn weighs on its earnings.
"Amid economic headwinds in 2018, some acquired businesses missed their targets, which were set several years ago when both parties appear to have been over-optimistic about future growth prospects," Zhang said.
Potential changes in accounting standards with regard to goodwill in the near future also drove many listed companies to decide to impair their goodwill sharply for the 2018 fiscal year, Zhang added.
"If a listed company leaves a large amount of goodwill on its balance sheet when the new accounting standards take effect, they may stay in the red for several years straight and be forced to delist," Zhang said.
According to Hu Yunlong, investment director of Beijing-based Kaixing Asset Management Co Ltd, the wave of paring goodwill is actually removing a concern that has plagued investors in recent years, and is paving the way for positive market performance.
"For the stocks with a low valuation and sound business operations, the drop in stock price due to goodwill impairment actually means more opportunities than risks," Hu said.
Cao Haijun, an analyst at Zhejiang province-based Zheshang Securities, agreed.
"Goodwill impairment will weigh on listed companies' earnings for the 2018 fiscal year, but makes it easier for them to post performance growth this year," Cao said in a note on Thursday.
Analysts also noted that behind the wave of goodwill impairment could be earnings management behavior. That is, the companies use accounting techniques to "modify" financial reports.
As of Thursday's close, the Shenzhen Stock Exchange has asked 14 companies listed on the ChiNext board about the rationality of their goodwill impairment this week, according to the exchange's website. Companies listed on other boards also received such inquiries.